Digest
The Thrill of the Book
Bestselling author Steve Berry on his characters, his collections, and his charitable work By Ellen Firsching BrownEllen Firsching Brown is a freelance writer specializing in stories about antiquarian books. She is co-writing a book about the publishing history of Gone With the Wind, to be published by Taylor Trade in January 2011.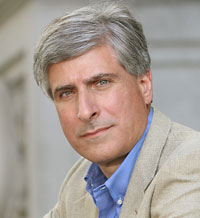 Many of us dream about it, but Steve Berry actually did it. He found a way to make a living out of his obsession with book collecting. And, no, he didn't pour his life savings into an antiquarian bookstore—he chose to put his passion on paper. An avid collector of writers such as James Michener and Clive Cussler, he set his cap to joining their ranks. In 1990, ten years into a law career, Berry began spending his spare time writing.
"I woke up early every morning, five days a week, to write before work," he said in a recent interview of the years he spent honing his craft. In 2003, he finally managed to get a book, The Amber Room, published. Fast forward six years, and Berry is now an internationally bestselling author of thrillers. Nearly ten million copies of his books are in print worldwide.
Berry found his greatest publishing success with a series of novels about a rare book dealer named Cotton Malone. He found inspiration for Malone in the Hardy Boys classic, The Twisted Claw, which he received as a Christmas present as a boy. Berry vividly remembers being fascinated by the brothers' visit to an old bookshop where they found clues to an ancient pirate treasure. Malone's adventures are basically a grown-up version of that scenario. In each of Malone's escapades, old books and manuscripts play an essential role. In his latest outing, The Paris Vendetta, a key plot element involves a text titled The Book of Fate Formerly in the Possession of and Used by Napoleon. An actual book published in 1822, The Book of Fate contains a reprint of a 32-question oracle supposedly discovered by Napoleon in Egypt and used by him to predict the future.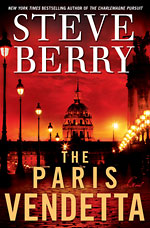 "For all his practicality, Napoleon was a superstitious man," explained Berry. "He believed in fate and prophecy, so the concept of an oracle greatly appealed to him."
Berry incorporated that conviction into the story; the oracle is both described and utilized by characters in the book. Berry has tried the oracle himself. "It's a little spooky how well it worked," he said.
Unsurprisingly, Berry has a soft spot in his heart for the Hardy Boys. He expects some day to start collecting the series.
"I've been fighting it though," he said of the urge to start tracking the books down. He knows he'll get obsessed with it and doesn't have the time to spare.
For now, his attention is focused on the collections he already has amassed. After forty years of searching, he is proud to have assembled complete runs of all the major thriller authors. In addition to Cussler, his shelves are full of Robert Ludlum, Frederick Forsyth, Ken Follett, and Michael Crichton, to name a few. He also collects volumes of historical fiction by James Michener, Sharon Kay Penman, and Margaret George. His first edition of Michener's Hawaii is a sentimental favorite because it was the first adult fiction he read. He is still pursuing the notoriously hard-to-find Tales of the South Pacific.
One of Berry's favorite parts of writing novels about rare books is the excuse it gives him to buy large quantities of books at his favorite bookstore, the Chamblin Book Mine, in Jacksonville, Florida. He travels there several times a year from his home in Georgia to stock up on reference materials. He spends hours trolling Chamblin's stacks and buys three to four hundred books per novel that he writes. When Berry finishes a project, he keeps the volumes he likes best and trades the rest for store credit.
"We're like a library without late fees for him," said shop owner Ron Chamblin, who has enjoyed working with Berry for many years.
Being a bestselling author also comes in handy for tracking down elusive titles. A few years ago, Berry was asked to give the keynote address at the annual convention of the Clive Cussler Collector's Society. In his speech, Berry mentioned that he had all of Cussler's books except the first two. Cussler, who was in the room at the time, came up to him afterwards and said cryptically, "I'll take care of it." Berry had no idea what he was talking about. A few weeks later, a package arrived in the mail containing signed copies of the sought-after volumes. "They came from his own private stash and were in mint condition," Berry said, still awed by the author's generosity.
Berry also keeps a cache of his own first editions, and he said he occasionally allows himself the guilty pleasure of tracking what they fetch in the marketplace. As a collector and an author, the idea that other bibliophiles are out there hunting down his books is almost a surreal experience, he said. He considers himself lucky to have two advance copies of The Amber Room. The publisher originally gave him ten review copies when the book was released. Berry admitted ruefully that he only sent eight out for their intended purpose.
Recently, Berry has turned his attention to charitable endeavors. In the spring of 2009, he and his wife, Elizabeth, formed a non-profit foundation called History Matters to help communities around the country fund historical restoration and preservation initiatives. The organization raises money by hosting writing conferences at which Berry lectures on the craft of writing and Elizabeth, also his manager, offers attendees insights on the business side of a writing career. These funds are put towards a variety of projects ranging from book and document conservation to historic building restoration.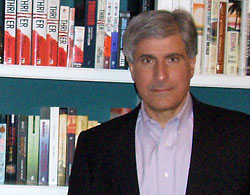 An upcoming event in March will benefit the special collections department at the Library of Virginia. The Berrys visited there this fall and were impressed by the facility's extensive conservation program and its struggles amidst recent state budget cuts.
"We wanted to do something to help them out," Berry said of their decision, on the spot, to host a workshop in Richmond.
Tom Camden, the library's director of special collections, said that talking to the Berrys about the importance of conservation was like "preaching to the choir." They immediately grasped that funding for preservation is a critical investment in the future, regardless of how difficult it is to find financing these days.
"With the understanding and benevolence of people like Steve and Liz Berry, the Library of Virginia will continue to rise up and meet the challenge on a daily basis," said Camden.
Berry looks forward to helping other communities meet that challenge as well. Cotton Malone and the Hardy brothers would approve.