sponsored by
Churchill's Dangerous Letter, Napoléon's Stolen Novel, and a Pony Express Bible
Love at Second Bite?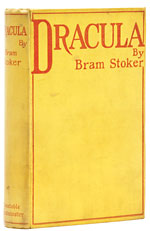 Bram Stoker, Dracula, £53,680 ($77,770) at Bloomsbury Auctions of London on May 27.
Completely unsophisticated and in wonderful condition, this superb inscribed first of Stoker's famous book is a first issue copy of May 1897, which has no advertisements and is printed on slightly thicker paper stock. Not only is this copy clean and bright, but it is inscribed by the author to Mrs. W. S. Gilbert—wife of the chap who wrote the librettos to the Savoy Operas of Gilbert & Sullivan.
At the time, some mild controversy attached to the nature and extent of the friendship between the Stoker and Gilbert households, or—to be more direct—a certain curiosity regarding the frequent meetings between Gilbert and Stoker's young wife, Florence, the Dublin beauty who had once been courted by Oscar Wilde, whilst Stoker, a theatre manager, was busy at work.
This copy had previously been on offer with a UK dealer for around double what it made at auction, but Bloomsbury had taken a completely opposite approach, valuing it at just £7,500-10,000.
In the Underground Footsteps of Arne Saknussemm
Jules Verne, A Journey to the Centre of the Earth, £9,065 ($13,135) at Tooveys of Washington (West Sussex) on May 18.
This was the first of Jules Verne science fantasies that I ever read, and I devoured it in one sitting on the Starlight Express. That is not as romantic as it sounds, because when I was a lad, occasional holidays to my father's Scottish birthplace were made on an overnight London-Glasgow train that was exotically named but in reality a cheap alternative to the express services. Our train would be shunted off into assorted sidings, platforms, etc. while important passenger and mail services rushed by and journey times were what one might call open-ended. On one occasion though, following Professor Lidenbrock, his nephew Axel, and Hans the guide into the bowels of the earth, as they chased clues left by a medieval Icelandic alchemist, Arne Saknussemm, made my interminable rail journey a memorable one.
Bumped at the extremities and with some slight rubbing at the joints, the pictorial cloth covers of this first English edition are otherwise about as good as one could hope to get. Inside the text block shows some occasional spotting and light browning, but given star billing on the catalogue cover, it sold for an auction record sum.
Reviewer Finds Marx Unreadable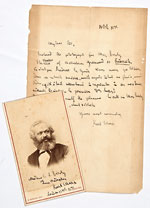 Karl Marx, Das Kapital, £140,300 ($203,265) at Bloomsbury Auctions of London on May 27.
Published in Hamburg in 1867, the first part of Marx's magnum opus was the only portion published in his lifetime—the other two parts being edited for publication by Friedrich Engels. Copies of that first part are uncommon, but May saw two come to auction. On May 18, Sotheby's Paris sold a fine copy in a period binding for Euros 21,250 ($26,445), but this Bloomsbury association copy, albeit in a later half morocco binding, was a far more exciting prospect. Copies signed or inscribed by Marx, as this one was, are incredibly scarce, with nothing comparable seen at auction in the last 25 years.
In 1868, when Marx and Engels were trying to raise international interest in the economic philosophy contained in the work, Marx (a London resident at the time) contacted Professor Edward Spencer Beesly (1831–1915), an historian and one of the founding editors of the British journal Fortnightly Review to see if that journal would be interested in publishing a critique of Das Kapital.
At the time, Marx wrote to Engels, "Prof. Beesly, who is one of the triumvirate which secretly runs this rag, has … declared, he is 'morally certain' (it depends on him!) a criticism would be accepted." A review was duly passed on to the chief editor, John Morley, but he found it unreadable and would not agree to publication, even after Beesly had suggested Marx might try and make the article less dry and more popularist.
Beesly then suggested that Marx and Engels contact the Westminster Review, but nothing seems to have come of that ploy either.
Sold for £25,620 ($37,120) in the same Bloomsbury sale was an 1871 letter from Marx to Beesly. It was mostly of a social nature, but also included a quote, in French, from the writings of Voltaire and was accompanied by a signed, carte-de-visite photograph.