Special Report
sponsored by
Passing the Torch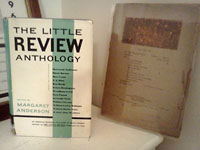 Murray, on the other hand, is a bookstore buff. "I like antiquarian and used bookstores best. It's like spelunking; there's an element of adventure when you rummage through bookshelves. Since I grew up in a neighborhood of bookstores, I find the setting familiar and comforting," she said. The title of her collecting essay, Literature of The Little Review: In Which Margaret Anderson Enters An Antiquarian Bookstore, also speaks to that point. For it was in such a shop, O'Gara and Wilson in the Hyde Park section of Chicago, where Murray herself chanced upon a tattered copy of volume III, number 8 of The Little Review that jumpstarted her collection. She takes a broad approach and said she isn't interested in acquiring a "full run" of the magazine; rather, in "books and editions I don't yet know about."
When asked about a favorite book in her collection, Murray replied that she is especially fond of books that her parents have given to her as gifts. "I received my copy of The Second Sex (a first British edition published by Jonathan Cape) from my mother, who bought it when she was my age. For me, such history makes a book all the more compelling; it carries my relationship along with my mother's. And, of course, it's a great book—I read it at just the right time in my life," she said. Having just completed her M.F.A. in fiction writing from Johns Hopkins, Murray moved to Los Angeles to write, teach, and "read long into the future."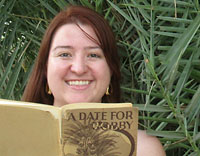 The NCBCC's third prize went to fifth-year Ph.D. student Sarah McCormick. Although she couldn't attend the ceremony (her wedding was the same weekend), she exuded passion for her collection on the Coachella Valley and date farming. "I absolutely do have the collection bug! I think it's a bi-product of being a historian," she said. "It's hard to part with things I think are historically important or really spark my curiosity." In addition to books, she collects ephemera, photographs, and postcards related to the National Date Festival, and even a fez, which she said, "is a great symbol of the complicated view that fair goers had of the Middle East."
McCormick's favorite place to hunt for additions to her collection is library book sales. The books are affordable, and she enjoys the fact that she can handle and peruse the book before buying. Plus, she said, she's supporting a good cause. "I think the Internet has made book collecting far easier, which is great for building your collection, and I have purchased online, but it takes a bit of the fun out of the process of discovery and treasure hunting," she said.
This sentiment was amplified during the NCBCC awards ceremony by Michael Dirda, longtime book critic for the Washington Post and author most recently of On Conan Doyle: Or, The Whole Art of Storytelling, who gave a talk titled "The Thrill of the Hunt: The Serendipitous Pleasures of Book Collecting." He was, of course, singing to the choir, and it was a delightful tune—how he came to own a signed first edition of Toni Morrison's The Bluest Eye, or his six-year search for a copy of I am Jonathan Scrivener by Claude Houghton. He genially lamented the rise of online book buying and selling. "Scholarly collecting can only benefit from the Internet … but collecting has lost some of the thrill of the hunt," he said. He declared that he hasn't purchased more than a dozen books via the Internet, and those only because deadline demanded it. "I'm in no rush," he said. "The journey, not the arrival, matters."
Dirda claimed that he was hardly a collector at all considering the company he was in, but his "gentleman's library," which numbers around fifteen to twenty thousand titles, is filled with genre fiction and resource material for his literary journalism. "It's not about finding the books, it's about finding the shelf space," he quipped.
Before the reception began, Dirda made one last observation: "Book dealers and book collectors are the best company in the world." On a Friday evening at the Library of Congress, there was no one who would disagree.