Fine Books Review
Mark My Words
A bookseller's collection of bookmarks delivers fun reading
By Rebecca Rego Barry Rebecca Rego Barry is the editor of this magazine.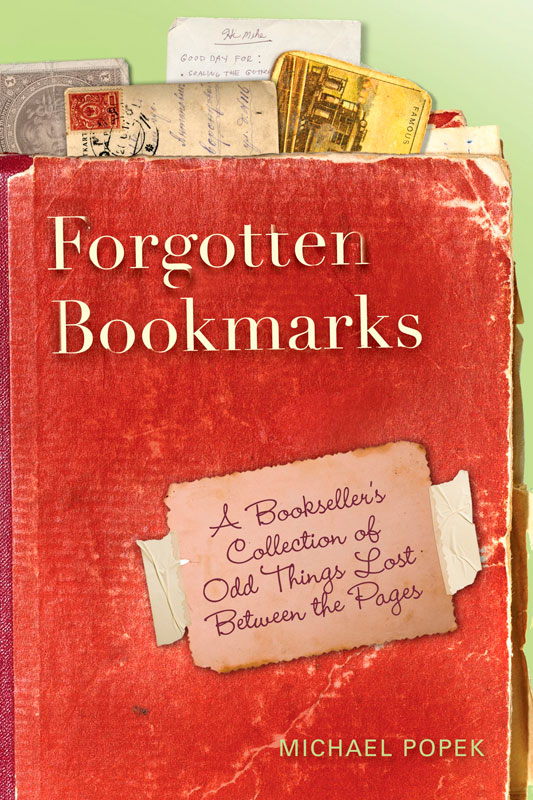 Forgotten Bookmarks: A Bookseller's Collection of Odd Things Lost Between the Pages
by Michael Popek;
Perigree;
182 pages;
hardcover;
$18.95
Every book collector has at least one great bookmark story. For me, it was a double discovery—William Shirer's press pass to an Indian conference found in a first edition of Arthur Miller's Death of a Salesman at a church book sale. For others, it might be a twenty-dollar bill or a pressed flower. Michael Popek, bookseller and author of the new book, Forgotten Bookmarks, has many such stories. He seems to find something fascinating every day at his family's bookshop in Oneonta, New York, and he has been blogging about it since 2007. This highly enjoyable book is a collection of his best discoveries, reproduced in full color.
Forgotten Bookmarks is divided into five sections: photographs; letters, cards, and correspondence; notes, poems, lists, and other written ephemera; receipts, invoices, advertising, and other official documents; and the old curiosity shop: from four-leaf clovers to razor blades. (Yes, razor blades. It would seem sinister, but they were found in Stenciling with Style.)
Popek has gathered quite a collection of ephemera in paging through old books—homemade invitations, tickets to a masquerade ball, a handwritten temperance pledge, an 1894 report card, and many more. I like the advertisement for Weingarten Brothers' "erect form corsets" found in Miss Brown's Basket, published in 1897, as well as the advertisement and information sheet for the "automatic sealing burial vault" found in 1963's The Day They Shook the Plum Tree. Popek offers no insight into these things, he just presents them as-is, with transcriptions when necessary, and that is a good choice, though it seems another text is just waiting to be written.
For me, the letters are more than curious tid-bits between the pages of a book. They are a peek into other lives, for better or worse, some as early as 1826. There are some very touching letters—to sick fathers and slimy boyfriends, from nervous soldiers and mystified doctors. One that stays with me was written by Sonny on July 24, 1917. He is writing to his mother, begging not only for money—he has but thirty cents in his pocket—but also for her consent to marry the girl he "really loves." Did she give in on either? We'll never know.
I plowed through Popek's book on a recent train ride to Washington, D.C. When the conductor came around to rip my ticket, I stuck my stub into the book. For the remainder of the trip, it held my place. Now that I'm back home and finished with the book, I think I'll leave it there and shelve the book. One day I'll come across it and recall my pleasant trip to the capital. Or, someone else will find it and pause to consider, if only for a moment, some distant traveler on train #141.