Sponsored By
John Windle
has been a rare book dealer since 1967, specializing in illuminated manuscripts, William Blake and his circle, illustrated books, and fine bindings.
Collecting@Large
A Greedy Woman
The Long, Delicious Shelf Life of Elizabeth Robins Pennell
By Cynthia D. Bertelsen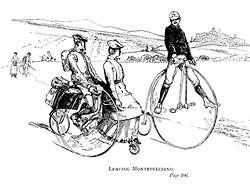 A tricycle started it all.
Elizabeth Robins Pennell (1855-1936), author of The Feasts of Autolycus: The Diary of a Greedy Woman (1896), and her husband, the artist and illustrator Joseph Pennell, rebuked the staid Victorian sensibilities of their times. After an eyebrow-raising marriage in 1884, offending both his Quaker family and her Catholic family, they raised more eyebrows by tricycling through France, the Alps, and Italy. Elizabeth sat in the sidecar-like seat, Joseph on the high seat.
Their journeys may well have inspired the Two Fat Ladies, the British food-television stars who cruised through Britain on a tandem motorcycle. Certainly, Pennell's unorthodox globe-trotting formed her in very subtle ways and contributed vivid points of reference for her later food writing and cookbook collection.
In Our Sentimental Journey Made Through France and Italy (1888), the Pennells described a night in Neuchâtel, France:
These were people of quality, it was plain. They had come in a carriage, and a private dressing room was found for them. But for us, who had arrived on a machine we worked ourselves, a basin was set in the fireplace, where we too made a toilet [toilette] as best we could. But still we sat in our humble corner [while the people of quality ate soup, fish, and mutton cutlets]. Seldom have we felt class distinctions so bitterly. … At last the landlady, very warm and red from the kitchen fire, with the baby in her arms, bade us follow her into a large dark room on the farther side of the café-kitchen. There she laid a modest omelette on a rough wooden table guiltless of cloth and we ate it by the light of one candle.
Little did class-conscious landladies suspect it, but Elizabeth Robins Pennell would go on to author over twenty-five books, some of which are now in print again. She also wrote articles for The Atlantic Monthly and newspapers, including a food column—"The Wares of Autolycus"—for London's The Pall Mall Gazette.
Nothing in her background suggested that Elizabeth Pennell would become one of the world's best known cookbook collectors.
Pennell also collected rare cookbooks for more than 27 years and wrote an intriguing bibliographical essay about them, My Cookery Books (1903).
Nothing in her background suggested that she would become one of the most well-known cookbook collectors in the world.

Primarily a biographer in the beginning, Pennell credited her interest in writing and the larger world outside of her native Philadelphia to her uncle, Charles Godfrey Leland. Pennell's father, on the death of her mother in 1863, sent Pennell and her sister to Eden Hall, a Catholic convent school. When Elizabeth graduated, she returned to live in her father's house. Social conventions of the day precluded any employment outside the house for a woman of her class. After some floundering and dabbling in art, she began to write professionally with her uncle's encouragement. She later wrote a two-volume biography abut him, now back in print, Charles Godfrey Leland: A Biography (1906, 2001). Her first serious book, The Life of Mary Wollstonecraft, appeared in 1884; it's also back in print (2001). And in 1929, she published the two-volume The Life and Letters of Joseph Pennell, reprinted in 2008.
Leland's support led her to write an article about Philadelphia and a fateful meeting with Joseph, whom she married in 1884. The talented young Pennells then took off for Europe, where they freelanced for 33 years. Their way of life gave birth to much of the childless Elizabeth's somewhat autobiographical oeuvre, including Our Sentimental Journey Made Through France and Italy (1888), Over the Alps on a Bicycle (1898), Our House and London Out of Our Windows (1912), and Nights: Rome, Venice, London, Paris (1916).
Europe, particularly European café culture, contributed enormously to her culinary education, preparing her for writing her food columns.
The Pennells frequented cafés in France and Italy, with their many artist friends. England presented a problem in this regard, as she reveals in Nights:
I had not been in London a year before I knew that there the café was not the place to talk in. I have dreary memories of the first efforts J. [Joseph] and I, fresh from Italy, made to go on leading the easy, free-from-care life in restaurants and cafés we had led in Rome and Venice. But it was not to be one. The distances were too great, the weather too atrocious, the little restaurants too impossible, the big restaurants too beyond our purse, and the only real café was the Café Royal.
A solution came with the Pennells' Thursday night salons. Anyone and everyone who wanted to attend, could. And they did. The roster of attendees reads like a Who's-Who of arts and letters of the times: critics Sir Edmund Gosse and William Archer; artists Aubrey Beardsley and James McNeil Whistler [about whom the Pennells wrote biographies and collected Whistlerania]; authors Henry James, Max Beerbohm, Oscar Wilde, and George Bernard Shaw; and publishers John Lane and William E. Henley.