Summer Reading
Poole's Prize
Why Did My Father's Great-Great Uncle Win a Pulitzer for Fiction?
By Rosecrans Baldwin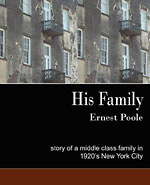 AbeBooks recently ranked the "Top 10 Forgotten Pulitzer Prize-Winning Novels." Included were a number of titles I didn't know, but also His Family by Ernest Poole—a title I recognized because His Family is a part of my family. Poole was my great-great-uncle, though I'd never gotten around to reading any of his books.
Around the same time I saw the article on the web, I received a copy of His Family in the mail, a surprise birthday present sent from a friend. Poole was someone my grandfather used to tell us children about at dinner; he was the family's prize intellectual specimen in the gene pool. The evident esteem held for Poole by my grandfather said a lot. In the first place, the idea that anyone was smarter than my grandfather was a revelation—himself a Yale man, accountant, and an amateur poet who wrote a sonnet for my parents' wedding in both Greek and Latin, the same poem nearly word-for-word and still rhyming.
I'd be lying if I said I didn't feel a sense of competition.
But I hadn't planned on reading Poole anytime soon. My first novel is being published next year—an extremely exciting, lucky event. But writing for me is a solitary business, and publishing's worse. You've made it into the club, but you suspect everyone wonders how you got past the doorman. I really didn't want an ancestor on my shoulder wondering the same thing.
So I put the book on the table. It's an ugly edition anyway. His Family lacks an attractive reprint, and the edition I received was a hack job, apparently published courtesy of Kinko's Print-Two-Bind-One-Free Wednesdays. The caption on the cover isn't much more inviting: "His family is the story of a sixty-year-old New York man who reflects on his life and the lives of his three daughters."
Notice they forgot to capitalize the 'f' in 'family.' Admittedly, I'm currently reading Middlemarch on my Kindle—i.e., I'm all for a poorly designed epic about hedgerows—but there was already a pile of books next to my bed. His Family got filed at the bottom. A week later, though, I needed to travel on some last-minute family business, and so I threw it in my bag.
And then I got curious. I was waiting for a flight and I cracked the cover. Was Poole any good? The larger question in my mind—did Poole really have what it takes—was vainly, regrettably entwined with a much deeper worry: Do I? My grandfather, Poole's admiring nephew, dreamed of quitting accounting to be a poet. My father, perhaps like a lot of people, says he has a great idea for a book, he just doesn't have the time to write it. I'd be lying if I said I didn't feel a sense of competition. Literature may not be a horse race, but it's sold like one.
According to Poole's biographer, T. Frederick Keefer, His Family sold more than 30,000 copies. Me, I'll consider myself lucky if I move 400 copies to people who didn't attend my high school.
Ernest Poole was born in Chicago in 1880. According to his biographer, Poole came from a middle-class background, separated by a single generation from the farm. His father, Abram Poole, "made and lost three fortunes in 10 years before he secured a fourth." Poole acquired a love for art and books from his father and carted it off to Princeton, though apparently it didn't do much to help him fit in. Poole had only a few close friends; the fraternity he applied to blackballed him. According to Keefer, his classmates at graduation voted him "their most useless man."
Poole's path towards his calling was social justice. Jacob Riis's How the Other Half Lives, about the slums of New York, changed his life, Poole said; in it he found shades of the unrest and social divisions he'd found riveting in Turgenev, but much closer to home. He moved to Manhattan and started reporting on related issues—tuberculosis in New York slums, stockyard strikes in Chicago. Then, in 1905, he shipped off to Russia for Outlook magazine and filed a series of 14 articles anticipating revolution, reporting agitator movements and guerilla warfare first-hand from Ukrainian villages and the Caucasus mountains. They were reportedly among his finest work; 50 years later, Poole's wife called the first article from the series the best short piece he ever wrote.
Poole returned to New York and gradually turned his attention to fiction: stories for the Saturday Evening Post, then plays and eventually novels. One of Poole's specialities as a magazine writer was the recounted anecdote convincingly told; apparently he filled up with too many for his journalism.