Fine Books Review
Bound to Die
New in biblio-fiction; or, mysterious things happen at book fairs By Stevan Alburty Stevan Alburty has written for Fast Company, the New York Times, and newspapers across the country through the Universal Press Syndicate.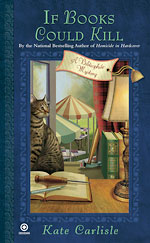 If Books Could Kill: A Bibliophile Mystery
By Kate Carlisle; Signet original paperback; 304 pages; $6.99
If you're headed to the Edinburgh Book Fair this month, you should pack comfortable shoes, a raincoat with a hood, and a copy of Kate Carlisle's bonnie little mystery, If Books Could Kill. A true Scotsman would refer to it as "Whadidit?"
The publisher classifies it as a "Bibliophile Mystery," a small genre whose aficionados are into spine-tingling; book spines, that is. Their pulses quicken at the mere thought of a hand-tooled inlay. And they're quite happy if every chapter or two, a character winds up as dead as limp vellum.
Our heroine is Brooklyn Wainwright, a 32-year-old expert in bookbinding and restoration, whose parents raised her in a commune (hence the non-conformist moniker). In her previous appearance in Carlisle's Homicide in Hardcover, Brooklyn was falsely implicated in the murder of her bookbinding mentor, Abraham Karastovsky.
As this new tale begins, she is sitting in first class on her way to Edinburgh, thanks to a $6 million inheritance from good old Abraham's will.
She has come to the fair to give some workshops, pick up an antiquarian bargain or two, and socialize with friends and colleagues. By page three, Carlisle starts dishing up characters faster than a pub cook turns out Scotch eggs on quiz night. Brooklyn can't seem to get through a page without running into an old friend.
A chance encounter on a street corner soon has her nuzzling the neck of an old heartbreaker of a boyfriend, Kyle McVee, a rich Brit who has a delicious-smelling neck, devilish charm, and a collection of rare books that beats the Bodleian.
Kyle has a book to show her. It's not just rare, it may also be dangerous. If its provenance is true, its contents could threaten 200 years of royal history. It is a signed edition of Love Poems to a Flaxen'd Queen by the quintessential Scottish poet, Robert Burns. There's only one problem. Although Burns' poetry is almost as well known as Shakespeare's plays, some of the poems in the book Kyle holds in his hands are previously unknown. Does that mean they're also forged?
Plus, Kyle has uncovered a rumor that the poems sing the sexual praises of Princess Augusta Sophia, the daughter of King George III. That's "Mad King George III." The one who not only lost his mind, but the American colonies as well. Oh, and there may have been an illegitimate child thrown into the rumor for good measure.
Kyle suggests that the monarchy would have been so anxious to have the poems, and the scandal they suggest, suppressed to the point that they might have had Burns killed. (Here Carlisle shows some license, for Burns died from a dental extraction gone bad. But, of course, who paid the dentist?) Even the present monarchy wants the rumor squashed and the book to vanish. Apparently, even old bad PR is still bad PR.
Kyle wants Brooklyn to determine whether the book is a forgery or not, an assignment she takes on reluctantly. She locks the book in the hotel safe and then goes out to enjoy a ghost tour with friends. Scuttling by lantern light through alleyways and crumbling peasant quarters, Brooklyn and the other tourists are having a fine, creepy time. Someone shrieks at the site of a mannequin lying in the straw by the hearth. Only it isn't a mannequin, it's Kyle. And he's extremely dead.
Soon, everybody in Edinburgh seems to be trying to kill Brooklyn. Possible suspects are plentiful. A favorite villain has a name as nasty as her personality: Minka LaBeouf. There are more murders. ("We're going to bloody run out of tape," complains a constable.) There's a kidnapping. And a love interest dominates the latter half of the novel, in the shape of a hunk named Derek Stone.
It is oddly refreshing to see some of the rawest events humans can experience—death and romantic passion—gently sanitized with such care and concern for the genre's readership. Outlets abound these days for prurience and gore. The pages of If Books Could Kill invite themselves to be turned quickly because they possess a quality that has too often fallen out of favor: they are digestible.
Carlisle's ability to handle the Scottish language needs some work. Brooklyn has a conversation with a desk clerk who speaks in what appears to be Lowland Scots. This bit of dialogue was submitted to a friend in Edinburgh and returned with more questions than answers. After referring to his dictionaries, he decided he had no idea what the poor desk clerk was saying and that Carlisle had resorted to "pidgin Scottish." Hey, if you're going to spend so much effort getting the bookbinding terminology right, do the same for the language.
Carlisle came late to writing, having spent several decades working in television as an associate director for many variety and game shows. This background serves her well, for the pacing of the book is faster than a Highland fling. She also worked in a vineyard, joined a commune, and sold fried chicken. She found her way to law school, an experience she found so tedious she turned to writing to pass the time.
Our gain. The world did not need one more lawyer. What we needed was somebody who knows what a knotting awl is and how to kill somebody with it.