sponsored by
Chronicles of Narnia, Virginia, and Greece
Modern firsts and early travel and exploration in the spotlight
FB&C's winter 2011 quarterly—available in January—will include a piece on Johnson's Dictionary of the English Language, the first of a series focusing on record breakers or books, manuscripts, maps, etc. that have made exceptional sums at auction. However, recent weeks have produced a rich seam of the rare and costly, as far as I can tell, all of the items in this month's report also achieved auction record sums.
In fact, I could have filled several columns with record breakers by drawing on just two of the sales featured below – the second Christie's London dispersal of items from Ladislaus von Hoffmann's Arcana Collection and the first of a series of sales that Sotheby's will devote over the next few years to an outstanding collection they call "The Library of an English Bibliophile."
What Happens in Narnia, Stays in Narnia
The Lion, The Witch and the Wardrobe by C. S. Lewis, £20,740 ($32,800) at Bloomsbury Auctions London on October 28-29.
Religious themes underlying the much-loved Chronicles of Narnia have troubled some in the past and were feverishly worked over once again—in America at least—when a new film version was produced a few years back. But is there really anything controversial at issue here?
As a New York Times writer, A. O. Scott, put it at the time: "To the millions since the 1950's for whom the books have been a source of childhood enchantment, Lewis's religious intentions have either been obvious, invisible or beside the point …
An allegorical world is both a reflection of the real one and a reality unto itself, as Lewis's heroes, the four Pevensie children, come to discover. The story of Aslan's sacrifice and resurrection may remind some readers (and now viewers) of what they learned in Sunday school, but others, Christian or not, will be perfectly happy to let what happens in Narnia stay in Narnia."
Quite so.
Here, my only concern is a 1950 first that smashed all previous records. A $19,975 bid at Christie's East for the Falktoft collection copy may be seen as something as a one-off—prices in that 2001 New York sale being uniformly exceptional—but though copies of this and other Narnia titles have been escalating in recent times, this would appear to be the only signed copy of The Lion, The Witch and the Wardrobe offered at auction. Hence the demolition of a curiously modest estimate of around $4500 and a price way in excess of anything previously achieved.
Mr. Hay's Contemptible Carcass
Deformity: An Essay by William Hay, $720 at Swann Galleries of New York on November 9.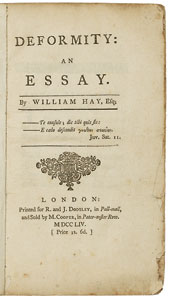 Nature was not kind to William Hay of Glyndebourne. Born a hunchback and small of stature, he lost both parents at five years old and later, as a law student, contracted smallpox. He recovered, but like many other victims was left with disfiguring scars—and in Hay's case, impaired vision as well.
Undeterred, the resolute Hay served as a magistrate in his native county of Sussex and in 1734, approaching his fortieth year and newly married, Hay was elected to serve as the member of parliament for Seaford. In the House of Commons he was noted for his studious attention to his parliamentary duties and continually fought for the rights and support of the poor. He also found other outlets for his energy in public office, as a Commissioner for Victualling the Navy and as a Keeper of Records at the Tower of London.
Among his writings were a several times re-issued text on The Principles and of Morality and Christianity and this essay. It was certainly not the first study of the subject, but it does seem to have been the first composed by someone who had lived with deformity and knew how it affected one's life and thinking.
A meditation on his deformed and failing body, it was first published in 1754, a year prior to his death at the age of sixty, and in it he wrote, "I care not what becomes of the contemptible Carcass, which is the Subject of this Essay," and even having suffered so much, suggested that his body be "opened and examined of eminent Surgeons" so that something useful, and profitable to others, might he learned from another of the afflictions he suffered—vesical calculi, or bladder stones. Perhaps not entirely averse to posthumous fame, he also asked that the stone be added to the cabinet of curiosities owned by Sir Hans Soane, a collection that was to form the core of the British Museum.
In a contemporary marbled wrapper, now lacking the backstrip, this 1754 first was a bit dog-eared to the opening leaves but generally clean, and the fact that no other appears in auction records make this too a record holder.