Manuscripts to Movie Scripts
A Real Florida Rarity
A Concise Natural History of East and West Florida by Bernard Romans, $122,000 at Bonhams New York on December 2.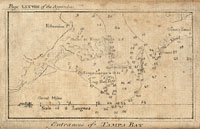 Resident in Florida, near St. Augustine, for many years, and by his own account the state's first surveyor, Romans has what one authority calls a prolix style, but his thorough account "contains much minute and well-arranged information," and he is reckoned particularly sound in his descriptions of the native Indians of the south. Creek Indians are featured among the illustrations, along with a Choctaw funeral platform and marsh oats.
Romans' book contains six engraved plates and three maps, though as he tells us himself, an engraved plate for a "map of the country of the savage nations" was lost due to the carelessness of a waggoner. Romans had planned that this self-published account should run to two volumes, to contain his unedited and ever-expanding text, but the second volume was never published.
In a period sheep binding, this copy of the 1775, New York first edition lacks a folding table of Georgia's exports and is otherwise browned, foxed, or stained with one gathering already coming loose from the worn and broken boards, but it is the only copy to have come to auction since the great Streeter sales of the 1960s.
Part of Bruce McKinney's 'American Experience: 1630 – 1850' sale, this copy was sold at auction in 1953 as part of the John B. Stetson sale by Parke-Bernet, but McKinney bought it for $68,000 at Sotheby's New York in 1999, when it was part of the wonderful Frank T. Siebert library on North American Indians and Frontier Life.
Remembrance of Military Service Past
Portrait photograph of the young Marcel Proust, $52,500 at Christie's New York on December 3.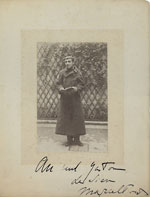 Although one has to say that he doesn't look quite the part, it seems that the famously effete man who was to make his literary reputation with one monumental work, the multi-volume À la recherché du temps perdu, was delighted with the uniform he was issued in 1889, when at the age of eighteen, he enlisted for military service at the Coligny barracks at Orléans.
Several photographs of the time show him in different outfits—usually posed against a leafy garden trellis, as here—though this one is unusual in that he is wearing a three-quarter length greatcoat without epaulettes, and rather than wearing or holding a helmet, has a book in his hands. What is even more unusual and financially critical is the fact that the photograph is inscribed, "Au seul Gaston de sien Marcel Proust."
During his year's military service, the asthmatic and permanently ailing Proust was assigned special sleeping quarters, as his coughing disturbed others, and he was exempted from morning parade drills. He was even allowed to spend weekends with his family.
For him it was a happy time, but when at the end of his term he tried to re-enlist, the army declined his offer. In an early literary sketch, Proust looked back wistfully on his army days as "a series of small paintings … filled with happy truth and magic over which time has spread its sweet sadness and its poetry."
Currier & Ives Prints Catch Light Again
Prairie Fires of the Great West, colored lithograph by Currier & Ives, $33,600 at Swanns of New York on December 1.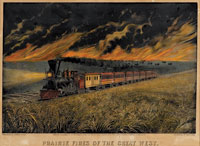 A small format print, measuring ten inches by fourteen inches and slightly browned overall, this dramatic Currier & Ives print of 1871, shows a train with a backdrop of a raging fire from which buffalo flee. Auctioneers had valued it at $800 – 1,200, and in a very brief online search I found a framed copy offered at just that sort of price, $975—so what happened here?
On the saleroom's website, specialist Gary Garland said the unexpected windfall showed that "Currier & Ives are not dead."