Manuscripts to Movie Scripts
A Book with Even More Pictures
Alice's Adventures in Wonderland by Lewis Carroll—with original artwork by Arthur Rackham, £18,750 ($29,185) at Sotheby's London on December 16.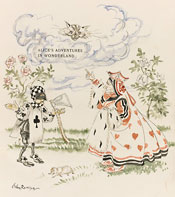 "Alice was beginning to get very tired of sitting by her sister on the bank, and of having nothing to do: once or twice she had peeped into the book her sister was reading, but it had no pictures or conversations in it, 'and what is the use of a book,' thought Alice, 'without pictures or conversations?'"
These are the opening words of Lewis Carroll's classic tale, but here is a book of which Alice would surely have approved. Not only is it a copy of her own story illustrated by Arthur Rackham with thirteen color plates and other drawings—one of 1,130 limited edition copies in pictorial buckram gilt issued by Heinemanns in 1907—but on the title page of this copy he has added an original watercolor of the bad tempered Queen of Hearts and an Ace of Clubs executioner, overlooked by the head of the Cheshire cat.
Now as readers will recall, the Queen's constant command was "Off with his [or her] head!", but here, the executioner is protesting that you couldn't cut off a head unless there was a body to cut it from: that he had never had to do such a thing before, and he wasn't going to begin at his time of life.
Rules of the Dance
Orchesography. Or, the Art of Dancing … by Raoul-Auger Feuillet, $10,000 at Christie's New York on December 2.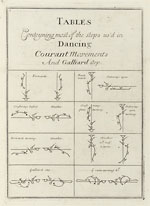 It all looks desperately complicated to me, but in 1706, this was one way of mastering all the "Steps us'd in Dancing, and Rules for the Motions of the Arms." The full title does, however, suggest that it was aimed at those who already knew how to dance and were familiar with this widely used dance notation system in which the dancer was expected to 'read' the steps, as a musician reads musical notation. One must assume that the Earl of Ilchester, whose bookplate is found within the rebacked period calf binding, was able to do just that.
This is in fact a first English translation of the French original by John Weaver, who was a dancer and choreographer. The son of a dancing master, Weaver was trained to the same role and from 1700-36 was a regular dancer in London's theatres, specialising in comic and character roles. A pioneer of the ballet d'action, Weaver is also regarded as the father of British pantomime.
A fine crisp copy of Weaver's translation, this was one of a fine group of dancing manuals in the library of Edward Tufte, professor emeritus of statistics, political and computer science at Yale University and a writer whose special interest is information design.
Indy Second Only To Sherlock!
Harrison Ford's annotated shooting script for Raiders of the Lost Ark, $115,000 at Profiles in History of Calabasas Hills, California, December 17-18.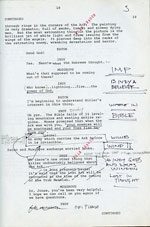 I must admit that it came as something of a shock to learn that in a 2010 list of the greatest fictional characters of all time, published in Time magazine, Indiana Jones was ranked at No. 2—held back from the ultimate accolade only by Sherlock Holmes.
In that light, I suppose, I must accept the saleroom's claim that this is "the greatest script in modern cinema, forging the character of Indiana Jones, which would become one of the greatest icons in screen history."
The price certainly demonstrates that the auctioneer's view is shared by many.