A High Horse and a Teller of Tales
James Joyce's Holy Office
The Holy Office, by James Joyce, Euros 26,400 ($35,600) at Mealys of Castlecomer on December 14.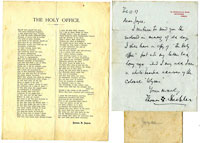 James Joyce's earliest venture into print is almost mythical, since no copy of the broadside poem on the death of the Irish political leader Charles Parnell, Et Tu Healy –believed to have been printed in 1891 at the instigation of the proud father of the then nine-year-old Joyce—has ever come to light. So with entry A1 in Slocum & Cahoon's standard bibliography only a collector's dream, The Holy Office is the earliest obtainable separate publication,* but it too is of the utmost rarity.
Another broadside poem, it is an artistic and literary statement and, to quote his biographer, Richard Ellman, a "first overt angry declaration that he would pursue candour while his contemporaries pursued beauty," those bathing in the 'Celtic Twilight:' Yeats, Synge, Gogarty, and others are damned, and Joyce proclaims his role as purgative. "That they may dream their dreamy dreams/I carry off their filthy streams … Thus I relieve their timid arses/Perform my office of Katharsis."
The Holy Office was distributed privately amongst his friends, but his bibliographers have determined that there were two distinct printings in the years 1904-5, one in Dublin and the other in Pola, then part of the Austro-Hungarian Empire (now Pula in Croatia), where the writer was living and teaching at the time.
No copies of the Dublin edition are extant. Stanislaus Joyce, his brother, claimed that the Dublin printer declined to hand over copies as they had not been paid. Only three or four of the Pola copies are recorded.
The very copy on which Slocum & Cahoon based their bibliographical entry A2, this one was owned by Thomas Koehler, one of Joyce's close friends during his early days in Dublin, and a much later but related letter from Koehler to Joyce was part of the lot.
In 2004, at Christie's London, the copy in the Quentin Keynes library sold for £28,800, then $53,155.
*In 1901, Joyce's student essay "The Day of Rabblement," on the subject of the Irish Literary Theatre, had been published together with another work by F. J. C. Skeffington in a pamphlet called Two Essays.
Equine (Almost) Without Equal
Black Beauty, by Anna Sewell, $8,540 at Bonhams New York on December 9.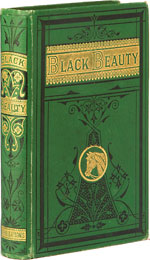 In the original green cloth, pictorially stamped in black and gilt—and in this instance a variant with the horse's head looking to the left within a medallion—this 1877 first of Anna Sewell's equine classic shows a few spots to the fore-edge, has some rubbing at the hinges, and a slight lean. But with one notable and perhaps freak exception of the copy sold by Sotheby's London in 1994 for what was then about $14,500, only inscribed copies have made more at auction.
Among those, the stand-out example is a copy that was bound in half green morocco, not the preferred original cloth, but was inscribed by the author for the dedicatee, her mother: "Mary Sewell, from her loving child." It made £33,600 (then $62,960) at Christie's South Kensington of London in 2006.
Sewell never lived to see the success her book achieved or the changes in animal welfare it brought about. A long-term invalid, she was so severely lame by the time she reached her thirties that she could only get about in a pony cart. She died just a few months before Black Beauty was published.