A High Horse and a Teller of Tales
Infernal Illustrations
La Divina Commedia, by Dante Alighieri, $45,140 at Bonhams New York on December 9.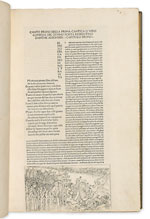 Printed in Florence in 1481, this was the first illustrated Dante as well as the first Florentine edition and the first to incorporate the commentary by Cristoforo Landino found in later editions.
Its German printer, Nicolaus Lorenz from Breslau, had intended to illustrate every canto—blank spaces being left on the pages for this purpose—but only nineteen of the one hundred engravings he planned were produced. Most copies are found with only the first two engravings, illustrating Cantos I and II of the Inferno.
In these copies the engravings, attributed to Baccio Baldini after designs by Sandro Botticelli, are printed directly onto the page, but in the twenty or so copies recorded with the other seventeen illustrations present, these additional engravings have been printed on separate sheets and pasted in.
Unfortunately, the first illustration has been shaved within the neatline, perhaps when it acquired its nineteenth-century Lortic binding of full black morocco blindstamped and gilt in Italianate style with a wide border enclosing panel of lions, rampant devices, gilt dentelles, etc. However, though there were a few other slight defects, this was in most respects a very attractive copy.
The only copy with all nineteen engravings that appears in auction records of the last thirty-five years or more was that which sold for $244,500 as part of Otto Schafer library at Sotheby's New York in 1994.
The Grandest of All Grand Canyon Books?
Atlas to Accompany the Monograph of the Tertiary History of the Grand Cañon District, by Captain Clarence E. Dutton, $5,100 at PBA Galleries of San Francisco on December 16.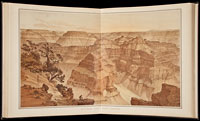 Though you know it is one of the natural wonders of the world, have seen the films and photographs, the awesome scale of the Grand Canyon still comes as a shock when you first stand and look over the edge. Looking at pictures in a book is a very second best, but this collection of maps and views was once as close as most people were ever going to get to the breathtaking real thing, and it did its very best.
Since it was first published in 1882, as a companion to U. S. Geological Survey reports, it has been showered with praise. In The Books of the Colorado River & the Grand Canyon (1953), Francis Farquhar described it as, "one of the greatest if not the greatest of all Grand Canyon books."
The twenty-two double plates include maps and lithographed views by William H. Holmes and a striking chromolithograph after the painter Thomas Moran.
Two views in this copy showed some pencil markings, there were a few marginal tears, and one plate had a tape repair to verso, but overall this was a good copy at a price that matched higher auction prices for the book.