sponsored by
A High Horse and a Teller of Tales
Sewell and Stevenson first editions, a Joyce broadside, and some canine history entices collectors
The Malthusian Recipe for Misery
Essay on the Principle of Population, by Thomas Malthus, £61,100 ($97,310) at Dominic Winter of South Cerney on January 26.
It was a discussion with his father, an old friend of Rousseau, on the perfectability of society that prompted Malthus to write a rebuttal of the Utopian views of William Godwin and others, and in this original form the book had one fairly simple and central idea.
Malthus states that while population growth is a geometrical progression, food supplies increase only arithmetically, and as the supply becomes insufficient, the size of the population is checked by "misery"—that is to say, the poorest sections of the community suffer disease and famine. It was written, as Malthus admits, "on the spur of the occasion, and from the few materials which were within my reach in a country situation," but it proved to be both highly provocative and influential. Later editions were enlarged and altered as he defended his views against his critics, but for collectors this 1798 first is the prize.
This copy was part of an ongoing disposal of books by Worcester County Libraries. It had a label and stamp on the front pastedown and library numbers to verso of the title page, but while the binding was worn and broken, this was essentially a good copy of the first edition with wide margins to the blue tinted paper on which it is printed.
Only three copies have come to auction in the last ten years, and this copy fell only just short of the $98,500 paid at Christie's New York in 2008 for a copy in rebacked contemporary tree calf that was part of the Richard Green scientific library.
All My Own Work!
A Collection of Two Hundred and Fifty Coloured Etchings Descriptive of the Manners, Customs and Dresses of the Hindoos, by François Balthasar Solvyns, £33,460 ($53,050) at Lawrences of Crewkerne on January 17.
Given its pictorial appeal and rarity—only two other copies at auction in over twenty years, and one of those incomplete—it is perhaps surprising that this fine work should have been given an estimate of just $5,000 or so. Others took a different view as to its worth.
Solvyns was a Belgian artist who had arrived in Calcutta around 1790, and this large folio collection was the largest and most expensive publishing project attempted in India in the eighteenth century. The subscription fee was even more than that for the first series of Daniell's much more famous set of plates, Oriental Scenery. However, as Solvyns also etched the plates himself (and made the paper too, according to some sources), it took him much longer to complete than he had hoped. With publication delayed in the end by five years, to 1799, it was not a financial success.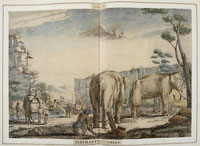 Nonetheless, it remains a pioneering work on Indian costume and life and this rare copy was first owned by Sir Robert Chambers, who was coming to the end of his service as Chief Justice of Bengal when it was published.
With most of the plates within double ruled borders and with printed numbers and captions, plus manuscript captions on blanks facing the plates, this copy brought a record bid.