Baum's Magic Words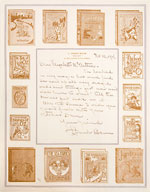 Letter from L. Frank Baum to a young fan, $14,640 at Bonhams of Los Angeles/New York on April 20.
Sent from Hollywood in November 1916 and written on notepaper that reproduces the covers of many of his books, this letter from the Wizard of Oz creator to a young fan reads: "I've looked in my magic box and find I've used up all my magic words and things just now and will have to wait till the Fairies put more in it. All the same, I wish you good luck with your Witches Den."
Witnessed But Not Seen
Mortgage document bearing the signature of John Milton, $45,600 at Swann Galleries of New York on April 21.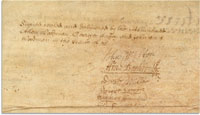 A number of witness signatures appear on the endorsement to verso of a 1657 vellum document relating to lands at Reigate in the English county of Surrey, but right at the top is that of the author of Paradise Lost, the poet John Milton. It was his hand that pushed the price so far past the estimated $7,000-10,000, but given that twenty-three years ago, this same document had sold for $8,500 at Sotheby's New York, one might have expected a more bullish valuation.
By the time he added this signature, Milton was in fact blind—one of his better known sonnets, On His Blindness, had been written only a couple of years earlier—but lotted with this document was a manuscript titled "Authorities ag[ains]t Swearing" and listing quotations from various sources on the subject of oaths. Though unsigned, this was in the hand of Thomas Ellwood, a pupil and young friend who would read to Milton and help him deal with the difficulties imposed by his blindness.
Alps Up, Estimates Down
Lithographed and Photographic Panoramas of the Swiss Alps, £25,000 ($40,875) & £30,000 ($49,050) at Christie's South Kensington of London on April 6.
Another case of a saleroom being caught with its estimates down. This Travel, Science & Natural History sale, a mix of pictures, prints, maps, books, scientific instruments and natural history specimens, was almost over when these panoramic views registered two of the day's top bids.
First up was Panorama des Alpes, pris sur le Gornergrat près Zermatt au Canton du Valois, a folding tinted lithographic panorama measuring roughly nine inches by seven feet when fully extended. Undated but printed by J. C. Ochsner for the Bern publisher, Johann Rudolf Dill (1808-75), this had been valued at just £1000-1500, but considering that Christie's had sold a rather duller looking and browned, ex-Alpine Club example for £2,000 in 2007, one might have expected sights to have been set a little higher.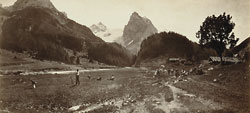 Individual examples of the Alpine photographs of Adolphe Braun (1812-77) had sold for as much as £1800 in that same 2007 sale, so once again an estimate of £1000-1800 on a lot offering a dozen mounted panoramic albumen prints, each measuring thirteen by twenty-eight inches, seems ultra-conservative.