Special Report
Collecting the Revolution
A budding collector's search for early America's people, places, and books
By Christopher LancetteChristopher Lancette is a freelance writer in Silver Spring, Maryland, who aspires to make history his full-time vocation.

On the march to Valley Forge, Joseph Plumb Martin made a rawhide covering for his feet to avoid going barefoot, "as hundreds of my companions had to, till they might be tracked by their blood upon the rough frozen ground," he wrote in his Revolutionary War narrative first published in 1830. Life got no better when he arrived in camp. "We were now in a truly forlorn condition,—no clothing, no provisions and as disheartened as need be … Had there fallen deep snows (and it was the time of year to expect them) or even heavy and long rainstorms, the whole army must inevitably have perished."
When I visited the very same place—in the comfort of a jacket and gloves—more than two hundred years later, I could not fathom the hardship Martin endured. I can see him shivering; I wish I could give him my coat. Instead, I salute his sacrifice the next day by buying a 1962 reprint of his memoir (an original is virtually impossible to come by). Private Yankee Doodle instantly became one of my favorite prizes in a growing collection of books related to the American Revolution.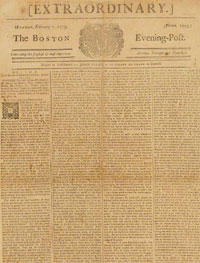 The sense of being almost overwhelmed with desire to connect to the nation's founding and its founders is one I share with bibliophiles across the country.
"People see things related to the Revolution and something happens at a deeply visceral level," said Clarence Wolf, owner of the George S. MacManus Co. Rare Books in Bryn Mawr, Pennsylvania. "They know that they have to possess that book, which leads them to wanting to learn more about that subject."
With every book I add to my library, I feel like a a better patriot. When I mention that to one of the dealers who has guided my collecting for the past few years, he is not surprised.
"I don't think it can help but do that," said William (Bill) Colangelo, proprietor of The Book Corner in Lima, New York. He has taught me much about the field and helped me find great books that are within my budget. "When you go into the history of it all, you deepen that feeling of country," he said.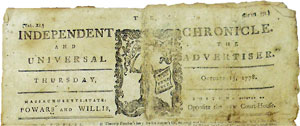 Heather O'Donnell, a bookseller with the New York branch of Bauman Rare Books, also understands the passion and intensity in this collecting area. "There is inherent drama in what happened in those moments when America came into existence, moments that had tremendous implications for everyone," she said. Her firm has published a helpful guide to collecting rare Americana and a good primer on book collecting in general. "That was when the founding principles were forged, which gave us the country we live in now."