Special Report
Collecting the Revolution
You don't need a million George Washingtons to get started, either. "There's a way to do it for almost anyone," O'Donnell told me, echoing the sentiments of dealers across the country.
You can jump in with a $3 used paperback about our first commander in chief or shell out $30,000 for a first edition of Common Sense from America's first embedded reporter, Thomas Paine. His book was so powerful that Washington read it to his troops in the field.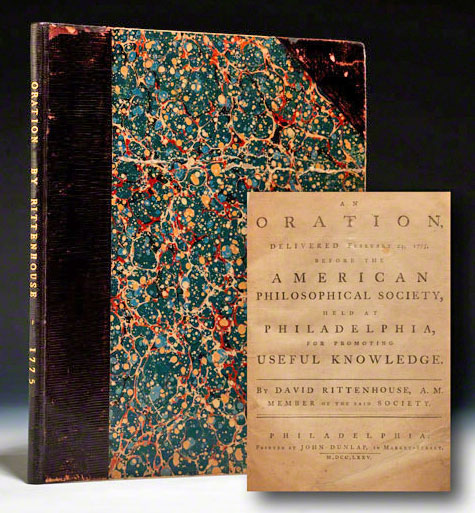 Most books are available in a variety of price points. I someday hope to own a first English language edition of the Italian writer Charles Botta's three-volume History of the War of The Independence of the United States of America, published in 1820. It seems to sell in the $2,800 range in rare bookshops. That doesn't stop me from loving my seventh edition in two volumes printed fourteen years later that I picked up at the Washington Antiquarian Book Fair for less than $150. The words are just as powerful (as is the memory of viewing a set in which Thomas Jefferson wrote a note when he presented them as a gift).
In examining the books the colonists themselves had at the time, Botta wrote that they "found in these narratives, that, tormented in their ancient country on account of their political and religious opinions, their ancestors had taken the intrepid resolution of abandoning it, of traversing an immense ocean, of flying to the most distant, the most inhospitable regions, in order to preserve the liberty of professing openly these cherished principles; and that, to accomplish so generous a design, they had sacrificed all the accommodations and delights of the happy country where they had received birth and education."
Is one book a beginning of a collection? It's hard to know where and how a collection such as this begins. There is so much material out there that the choices can be overwhelming. Again, I turned to my expert.
"I would look for some serious pieces to form the cornerstone of a collection and work on it from there," Colangelo advised.
The first real building block of my own collection is The Life and Works of John Adams, Volume 1, published by Little, Brown and Company in 1856. I stumbled on to it while paying a visit to the Library of Congress during a business trip to Washington D.C. years ago. I tracked down a copy for about $100 as soon as I got home. I placed it next to a copy of the 1976 Cultural History of the American Revolution I had purchased in my teens for $25. Seeing the duo together sparked an obsession that has since taken my life in all kinds of new directions. Collecting the Revolution became both a hobby and a journey.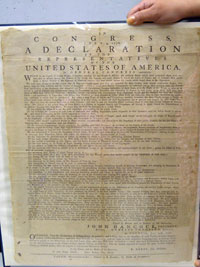 My own path has filled my journals with amazing book experiences, even if many of the greatest came when I had no chance of buying that which I held in my hands. I've had the privilege of caressing one of the first copies of the Declaration of Independence to roll off the printing press, letters written by John Adams from France, and a book owned by Benjamin Franklin in which used the margins to attack the author.
I've also toured the homes of Washington, Jefferson, and Adams and visited battlefields. I'm contemplating joining a Maryland re-enactor group. I've made friends ranging from authors to park rangers. I even moved to Washington to be closer to so many Revolutionary sites and resources.