A Moveable Feast for the Eyes
On the Origin of Inscribed Species
Charles Darwin, On the Origin of Species by Means of Natural Selection…, $134,500 at Christie's New York on November 15.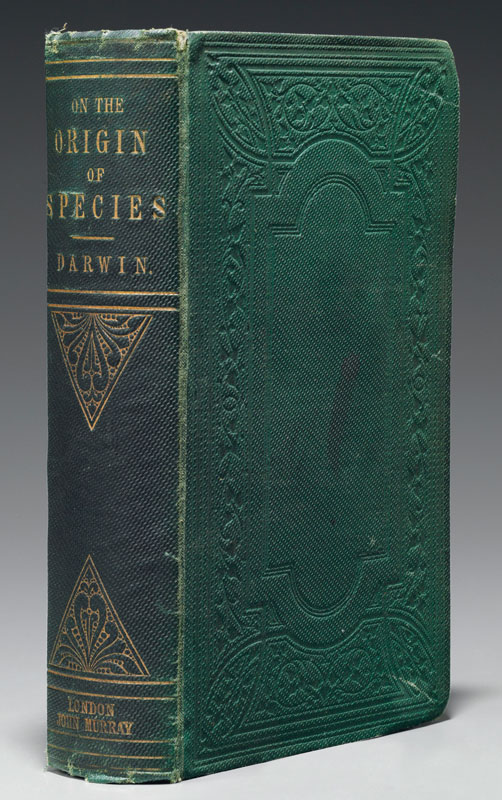 "A turning point, not only in the history of science, but in the history of ideas in general," wrote the editors of that masterful reference work, Printing and the Mind of Man, and there is nothing more, I think, that I need add here about the importance, influence, or impact of this great work.
What is highly significant in collecting and price terms, however, is the fact that it is one of two dozen recorded presentation copies. There are no known examples of the 1859 first edition inscribed in Darwin's own hand, but at his request an unknown number were sent out to friends and colleagues—the words "From the author" perhaps being added by one of publisher's clerks.
This copy shows some bumping, darkening, and rubbing to the binding, and it is not known to whom it was first given, but there is that close connection to the author that collectors prize.
The record for this landmark work stands at a thumping $325,000, paid at Sotheby's New York in 2007 for another of the inscribed copies that was extraordinarily bright and fresh, completely unrestored, with a tipped-in note signed by Darwin presumably added at a later date.
The addressee is not identified, but it could have been publisher John Murray himself, for in it Darwin wrote, "I hope you will send a copy of the Origin to the Pall Mall Gazette, as I hear that they intend reviewing it … at some considerable length; but I do not know who the reviewer is, or whether it is to be favourable or hostile."
Twinkle, Twinkle New Little Star
Tycho Brahe, De nova et nullius aevi memoria prius visa stella…, DKK 5,084,000 ($904,950) at Bruun Rasmussen of Copenhagen on November 28.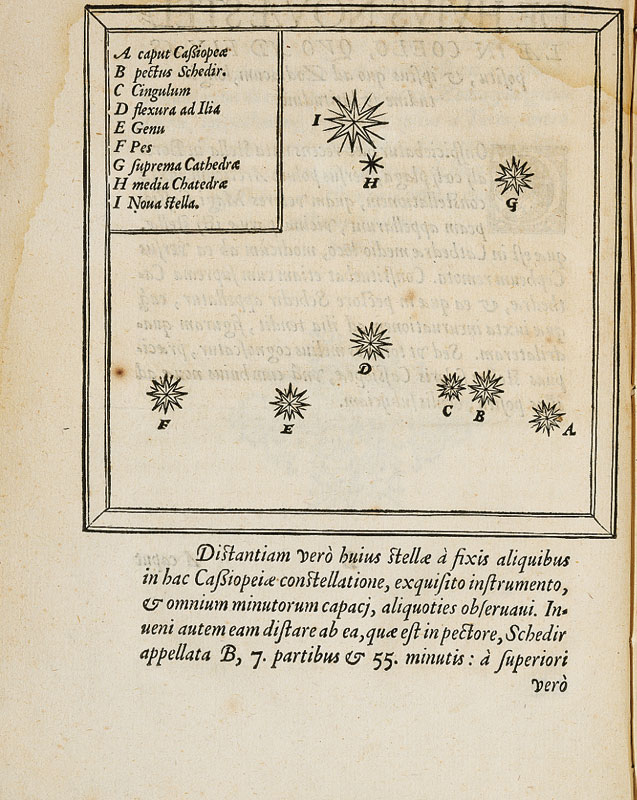 Now incredibly rare, this little work launched the career of the celebrated Danish astronomer, for in it he demonstrated, without the benefit of a telescope but using a half-sextant of his own invention, a precisely observed and measured proof of a brand new star—something unthinkable at the time.
Brahe had first observed the star in the constellation Cassiopeia, as the full title explains, on the evening of November 11, 1572, but contemporary reports indicate that it was at one time bright enough to be seen in daytime.
According to his own later writings, only a few copies of his first book were printed in Copenhagen in 1573, and today it is reckoned that there are around twenty copies in institutional collections world wide and a couple in private hands. This example was entered for sale in Rasmussen's fiftieth anniversary auction by Copenhagen's Tycho Brahe Planetarium, which is currently renovating its exhibition areas and doubtless welcomed the boost to its funds.
Back in 1964, Rasmussen sold a copy (bound up with another work) for DKK 71,000, but the only other example to appear in auction records for the last fifty years or so is one that in 1978 made £418 ($650 at today's rates) as part of the great Honeyman scientific library at Sotheby's in London. And that copy had the last six leaves supplied in facsimile.
This one, though, not only broke a record for Brahe, but is reported to be the most expensive book every sold in Denmark!