A Moveable Feast for the Eyes
Two from Michael Silverman's Collection
Edward Jenner letter, and Godrevy Lighthouse visitors book Signed by Virginia Woolf £2,500 ($3,900) and £10,250 ($15,990), at Bonhams London on November 22.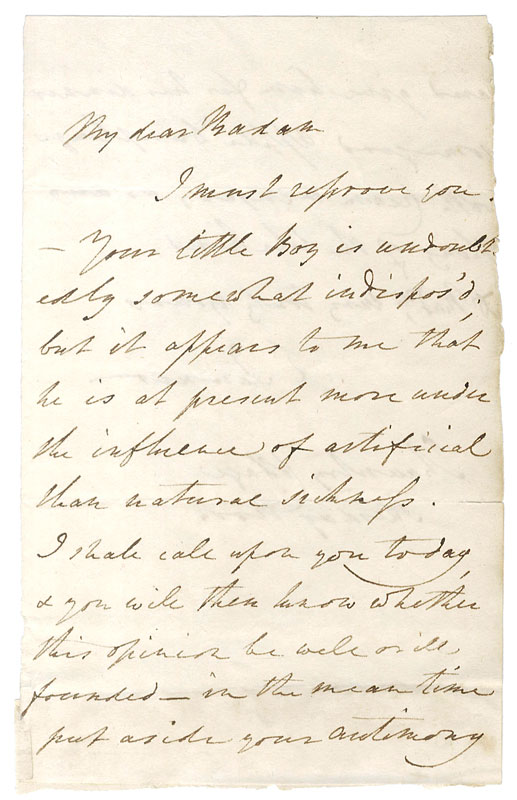 In the history books and annals of fame, Edward Jenner is the man who pioneered the smallpox vaccination, but in an undated (c. 1800-15) letter sold as part of the letter and manuscript collection of the late Michael Silverman, a highly respected English dealer who died earlier this year, the good Doctor Jenner proposes a distinctly more homely remedy and upbraids a typically over anxious mother.
From Chauntry Cottage at Berkeley in Gloucestershire, at "Tuesday Noon," Jenner writes: My dear Madam, I must reprove you—Your little Boy is undoubtedly somewhat indispos'd; but it appears to me that he is at present more under the influence of artificial than natural sickness. I shall call upon you today, & you will then know whether this opinion be well or ill founded—in the meantime put aside your Antimony and give him for his dinner some good Apple Dumplings with Cream & Sugar, or anything of the like kind."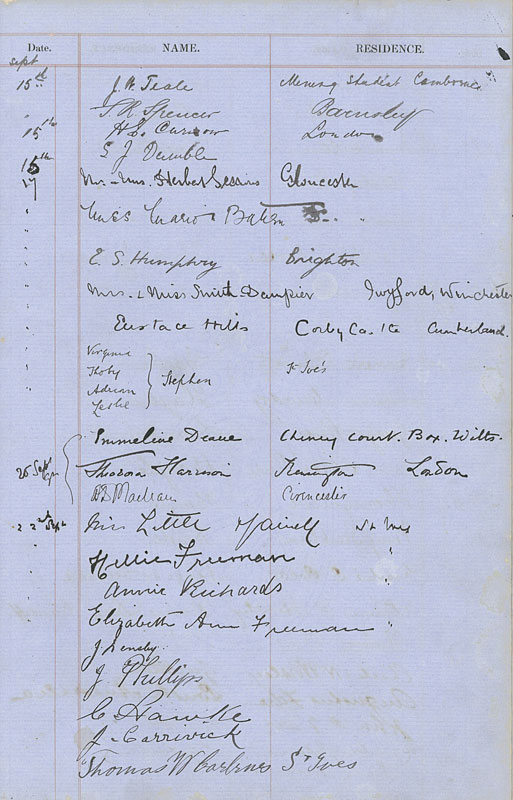 The boy, I daresay, was delighted that his mother had been so instructed. Antimony was used as a purgative!
Though the sale contained much of greater historical and literary significance, Silverman was particularly fond of letters such as this that had some special human interest.
Those who love the writings of Virginia Woolf will be very familiar with her largely autobiographical novel, To the Lighthouse, but while the story is ostensibly set in Scotland, in the Hebridean islands, the details of the locations drew on childhood memories.
For the first twelve years of her Virginia's life, the Stephen family spent summers in Cornwall and stayed at Talland House, a large nineteenth-century house with views across the bay and out to the Godrevy Lighthouse.
Virginia's name can be found twice in the visitor's book, once in her own hand and again as entered by her father in compliance with the ruling by Trinity House—the body responsible for all British lighthouses then and now—that keepers must request all visitors to enter their names and addresses in the book.
The Aviator Strikes a Pose
Inscribed photograph of Howard Hughes, £8060 (£12,415) at International Autograph Auctions, Heathrow—London. November 26-27.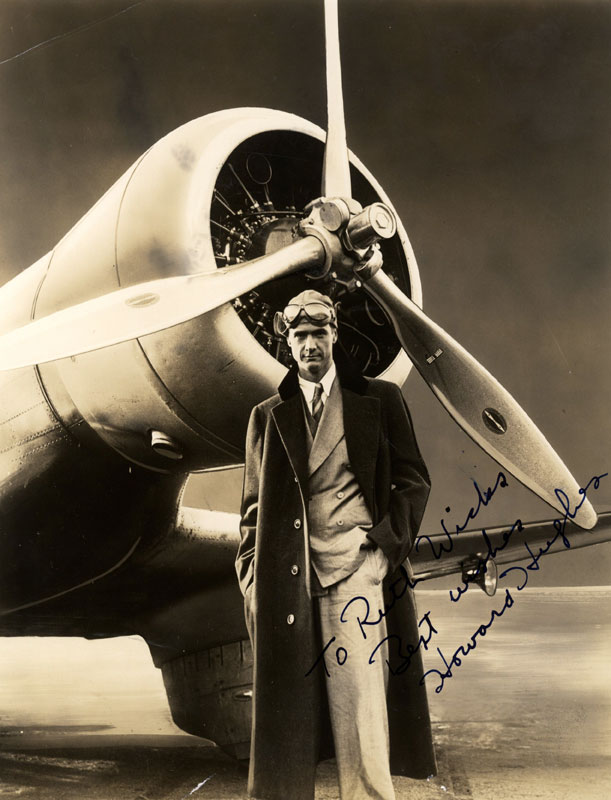 A striking image of 'The Aviator,' Howard Hughes, posing in front of what I think may be the Northrop Gamma in which he set a transcontinental record by flying from Los Angeles, California, to Newark, New Jersey, in nine hours and twenty-seven minutes in 1936. This eight- by ten-inch photograph is inscribed for Ruth Wicks, apparently an employee of businessman and aviation enthusiast Albert Lodwick, who had served as Hughes' flight operations manager and troubleshooter when, in a Lockheed Model 14 Super Electra, he made his record-breaking, round-the-world flight of three days, nineteen hours, and fourteen minutes in 1938.