Sponsored By
Bloomsbury Auctions
The World's Leading Auction House for Rare Books and Works on Paper. Now Accepting Consignments.
Wild, Wild West
Desperado
Invitation to a Hanging, PBA Galleries (San Francisco) $8,400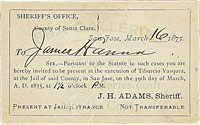 The "not transferable" line at the bottom of this piece of Wild West ephemera adds a rather bizarre and unsettling touch. This invitation to the hanging of a notorious outlaw was obviously a hot ticket, but the recipient, the local sheriff's son-in-law, is warned that this family perk cannot be handed on to anyone else desperate not to miss the show.
The hanging was to take place at the Santa Clara County Jail, in San Jose, California, on March 16, 1875, under the direction of Sheriff John Hicks Adams. Tiburcio Vasquez took the leading role. Vasquez was well-educated and the great-grandson of an explorer who came north to California with the De Anza expedition, in 1776, but he turned to crime at an early age. He justified his actions on the grounds that he was simply punishing whites for their discriminatory treatment of those of Mexican or Spanish descent.
As the number of stagecoach and store robberies committed by Vasquez mounted, the reward for his capture steadily increased. In the end, a relative of a young girl that he had impregnated turned him in.
Sold with the hanging invite at this June 25 sale were a few old family carte-de-visite photographs, one of which, showing a bearded man, may well be the James Hanna who received the invitation.
A Tale of Two Queens
Queen Mab, Sotheby's (London), $30,940
The English poet Percy Bysshe Shelley had his first book, Queen Mab, privately printed in small numbers for distribution to his friends when he was a fiery and radical 21-year old. The controversial—and at the time, politically dangerous—book consists largely of attacks on the monarchy, war, commerce, and religion and Shelley's observations on sexual intercourse and the mob mentality. The whole work, he later said, was "against Jesus Christ & God the Father, & the King, & the Bishops, & Marriage, & the Devil knows what".
The printer, Thomas Hookham, only agreed to take the job if Shelley's own name and address appeared in the book, and even then he subcontracted the work. Shelley also grew nervous and cut out the title-page and clipped his name from the final leaf from most copies, even his own. He also removed the dedication leaf from many finished books, too, but this had nothing to do with fear of prosecution; it was a response to a painful personal crisis—separation from his wife, Harriet.
Fewer than 20 copies are thought to survive with both the title and dedication leaves intact. In this July 14 sale, we had an entirely unmutilated and lovingly preserved copy in a handsome dark olive morocco gilt binding created in 1901 by Leon Millard for the Club Bindery. This Queen Mab last turned up at auction at Sotheby's New York as part of the great H. Bradley Martin library. At that sale in 1990 it sold for $15,400 ($25,000 in current dollars); nearly twenty years later, in more straitened times, it reached £18,750 ($30,940).
By chance, a Bloomsbury New York sale of June 23 had another of these unmutilated copies offered for sale. Last sold in 1988 for $12,100 ($22,000 in current dollars) as part of the library of the American bookseller John Fleming, this copy in later polished calf gilt by Bedford reached $13,200, an advance on the previous auction price only by dint of a higher buyers' premium.