Fine Books Interview
Archivist in the Forest
"How do you explain Thoreau's puns without killing the joke?" Interview by Rebecca Rego Barry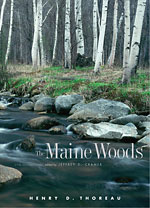 In this issue of Fine Books, we talk to Jeffrey Cramer, editor of a new fully annotated edition of Thoreau's The Maine Woods (Yale University Press, 2009) and curator of collections at the Thoreau Institute at Walden Woods. Cramer has also published Walden: A Fully Annotated Edition and I to Myself: An Annotated Selection from the Journal of Henry D. Thoreau.
FB: Most readers are familiar with Thoreau's stint at Walden Pond, while few know much about his Maine expeditions. Why were you motivated to edit a new edition of The Maine Woods?
JC: Although it's not a title that most people are familiar with, it is the Thoreau title, after Walden, which sells the best, and it contains one of his most powerful and frequently anthologized essays, "Ktaadn." As I plan to do annotated editions of all, or most, of Thoreau's works, this book was the logical next step. And there were conundrums in the text that I was challenged by, obsessed by, that I wanted to solve if I could—things like: What did Louis Neptune mean when he said he had 'planted letter' on the top of Ktaadn? Or what was the literal meaning of the Abenaki words Joe Polis carved on a tree? Or what great British author suggested that 'savages' should be 'civilized off the face of the earth'?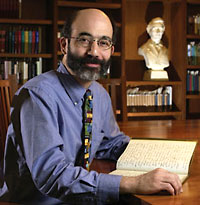 FB: Tell me about the process of annotating this book. How long did it take?
JC: It takes about two years, partly due to other commitments, but also because I'm not only annotating the work but I'm carefully looking at the text to present a reliable and accurate edition of Thoreau's work that does not carry forward errors from previous editions. The hardest part about annotating is striking a balance between what needs to be annotated and what doesn't. What an 18-year-old reader and what a 60-year-old reader know is different; what a person who grew up in the country or on a farm understands about the land is different from what a person who grew up in a major city knows. How do you explain Thoreau's puns without killing the joke? And the hardest part of all is reaching that point in time where I simply have to stop and finish the book, knowing that although I may have missed something, if I didn't stop, I'd go on forever.
FB: Was this edition easier or more difficult to produce than your Walden edition or I to Myself?
JC: With Walden I followed in the footsteps of some great Thoreau scholars whose annotations formed the initial foundation of my work. I would revise or challenge their work, and then add my own layer, bringing to the text a whole new set of questions they did not ask. With I to Myself and The Maine Woods there was less on which to build. This made it both easier and more difficult: easier in that I was not forced into the position of having to challenge the work of scholars that came before me and for whom I had the greatest respect, but harder in that I did not have their guidance to fall back on. I'm not sure which I prefer.
FB: The amount of detail in your annotations and notes is remarkable. Are you naturally a very organized, methodical writer?
JC: I wish I were. In annotating a particular word or phrase I am very methodical in how I go about solving a particular textual mystery, making sure that I've covered all the appropriate sources, and that my explanations fit the context of what Thoreau did or could have known. But in choosing what to annotate, I am less so, combing through the text forwards and backwards many times, over and over again, with the hope that by sneaking up on a word or phrase from a different direction I may find something I had previously missed. It's similar to how I mow the lawn, crossing and re-crossing rather than mowing straight rows.
FB: What is your professional background?
JC: I did my undergraduate work at the University of Massachusetts in Amherst. For my curatorial work at the Institute, I have a master's degree as a trained professional archivist from SUNY-Albany. For my editorial and other literary work, I am an autodidactic independent scholar. As a parent of home-schooled children, I've always held that it is the product not the parchment that counts.