Sponsored By
Bloomsbury Auctions
The World's Leading Auction House for Rare Books and Works on Paper. Now Accepting Consignments.
Poe poems, a Mississippi map, and A Christmas Carol haul in six figures at last month's auctions
Bruce McKinney Lets the Market Decide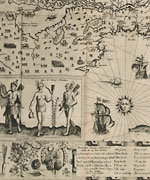 Les Voyages du Sieur de Champlain, Bloomsbury Auctions New York on December 3, $751,000
Bruce McKinney, who in 2002 founded Americana Exchange, began collecting seriously in the early 1990s, and over ten years, at a time "when inflation was beginning to take hold but it was still possible to buy early material reasonably," built up a fine collection dealing with early voyages and exploration in the New World. Convinced that the worst of the recent economic downturn is behind us and that the market values important material, he decided to put the collection into auction "with low reserves and the best of intentions; to help settle a roiling market."
Each of his books contained a specially designed bookplate in medieval woodcut style showing a scene of earthquake and general turmoil and bearing the tag Liceat Descernere Foro—let the market decide—and in a bold and unusual move, McKinney also revealed how much he had paid and when and from whom he had bought the book. Well, on 80 lots that had cost McKinney $2,305,962, the market spent $2,924,000—though the buyers would have had to stump quite a bit more to cover the saleroom's fees, the much loved buyers' premium.
Everything sold, but many lots failed to keep pace with inflation and others sold at a loss. Around half of the $620,000 increase was accounted for by just one exceptional item. This was an unsophisticated, wide margined 1613 first of Les Voyages du Sieur de Champlain that he bought from Connecticut dealer Bill Reese following the 1999 Sotheby's New York sale of the great Frank Siebert library for $360,000, and which was here was acquired for a client by the UK firm, Peter Harrington.
A landmark work of French exploration, it includes the 'Carte Geographique de la Nouvelle…' (seen here), which offers not only the first modern and reasonably accurate map of the region but emphasizes its economic potential. Beavers, foxes, and other animals hint at fur trading potential, while forests, crops, and seas teeming with fish combine to show the region's wealth of natural resources. One carto-historian, J.C.Armstrong, said of this map that it "makes a political statement; it is not the work of a bureaucrat, but of a skillful psychologist, promoter and politician."
A Perfect Picture of the Father Of Waters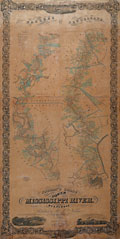 Norman's Chart of the Lower Mississippi River, Neals of New Orleans, November 21-22, $315,999
A glowing report in an 1858 issue of the New Orleans Crescent described a new map of the Mississippi as one offering a "perfect picture of the windings of the Father of Waters from this city to Natchez, with every plantation on its banks, drawn out and colored, with the name of the owner and whatever name he may have given his plantation." It also told readers that its creator, Mr A. Persac, "descended the river in a skiff, landing at every mile, and drawing every plantation line and taking down every name and landmark on both banks of the river, [and] deserves the highest credit for his very able and useful labor."
A reproduction was issued in 1931 but that original has become extremely scarce, and where the map produced by surveyor and painter Marie Adrien Persac (1823-73) does survive, it is generally found in poor condition—apparently because most copies were used by river pilots to locate plantation landings.
Few copies are known as originally issued in boards, and this browned looking example of Norman's Chart of the Lower Mississippi River, published by B.M. Norman of New Orleans but engraved and printed by well known New York map specialists, Coltons, came ready framed from the estate of the late Fisher E. Simmons Jr., a local authority on steamboat ephemera and postal history. Valued at $18,000-25,000, it was contested by telephone bidders and others in the saleroom before selling to another Louisiana collector.
Norman had planned to issue a series of three maps showing plantations from New Orleans to Memphis, but this one, showing the divisions of land with owners' names, vignettes of New Orleans, Baton Rouge and plantations, all within a decorative border of cotton plants and sugar cane motifs, was the only one completed.