Poe poems, a Mississippi map, and A Christmas Carol haul in six figures at last month's auctions
Fish and Chaps to Go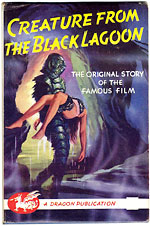 Creature from the Black Lagoon by 'Vargo Statten,' Bonhams Oxford on December 1, £960 ($1,594)
Published in 1954, this novelization of a Universal movie in which members of an Amazon expedition encounter a creature that is half-man, half-fish was the work of one Vargo Statten, or in real life, John Russell Fearn, a prolific British writer who began working in American pulps but then "almost single-handedly drove the post-WWII boom in British publishing with a flood of science fiction, detective stories, westerns, and adventure fiction, writing under various pseudonyms."
The quote above was taken from the catalogue entry for a copy of this book that sold for $6,600 as part of the Donald G. Drapkin library at Christie's New York in 2005. The book was apparently issued simultaneously in blue cloth with dust jacket and in paper covers, and both are now very scarce. The Drapkin copy, another sold by Dominic Winter for £611 (then $1,215) in 2008, and this one from last month's Oxford sale were all examples of the hardback edition.
Like so many of the books in that collection, the much more expensive Drapkin copy was preserved in a specially commissioned folding case from the Dragonfly Bindery—in this instance one of quarter-blue morocco, decorated to the front board with an image of the creature's head in green and red leather and cloth inlays.
"Have you a Tamerlane in Your Attic?"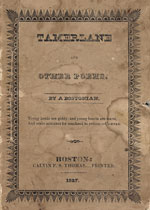 Tamerlane and other Poems by Edgar Allan Poe, Christie's New York on December 4, $662,500.
The ultimate prize for collectors of American literature, one of only two copies still in private hands, this slim collection of poems was printed in Boston in 1827, when Poe was just seventeen or eighteen years old. Printed at his expense and issued anonymously, it was widely ignored at the time—so much so that when it was reprinted two years later, his claims concerning an earlier edition were considered false. No copy at all was recorded until 1876, over a quarter of a century after his death, when an example turned up unexpectedly in the British Museum, and no copy surfaced in the U.S. until 1890.
This copy from the William E. Self collection is one of a handful brought to light as a result of an article by Vincent Starrett, "Have you a Tamerlane in Your Attic?" published in the Saturday Evening Post in 1925, and one of only seven to retain the printed tan wrappers.
In 1927, the legendary American bookdealer, Dr. Rosenbach, bought it for $15,000 from the sculptor and bookman Sigurd Neandross. The shrewd doctor paid in four installments, but later that same year sold it on for $27,500 to Mrs. George Blumenthal. Four years later, the Blumenthals returned it to Rosenbach for re-sale, but no buyer could be found, and it went instead to Gabriel Wells, the dealer who in 1920-21 had infamously broken up a Gutenberg Bible to sell the leaves separately.* No vandalism was involved in this instance, for in 1933 Wells had bought the Blumenthals' entire Poe collection for $50,000.
A few years later that collection was sold by Wells to H. Bradley Martin, and it was in 1990, at one of the Sotheby's New York sales of that great library, that this stained and entirely unsophisticated copy of Tamerlane was bought by Self for $165,000. It is still in private hands with an anonymous American collector.
*Those leaves, which were sold with an essay called A Noble Fragment turn up at auction from time to time, and on December 9—again at Christie's New York, but this time as part of the Wolfgang Herz library—an example made $52,500.