Poe poems, a Mississippi map, and A Christmas Carol haul in six figures at last month's auctions
The Hostess with the Mostess where Dickens was concerned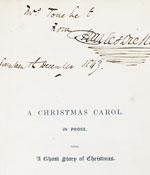 A Christmas Carol by Charles Dickens, Christie's New York on December 4, $290,500
Arguably the most widely read and best known of his books, A Christmas Carol has now knocked Oliver Twist off the top of the tree to become the most expensive Dickens title ever sold at auction.
Once part of the magnificent Dickens collection of Alain de Suzannet, sold in 1971, and offered last month in the second and final portion of the splendid English and American literature collection of William E. Self of Dayton, Ohio, this was one of the earliest recorded presentation copies. It was slightly "leaned" or bent, and the text block was split at the center, but it was one of just eight copies that Dickens is known to have signed on December 17, 1843—the other lucky recipients of this first batch included his friend and patron, Baroness Burdett-Coutts and William Makepeace Thackeray.
This copy was given to a relative of the writer Harrison Ainsworth, a Mrs. Eliza Touchet, who, following her younger cousin's separation from his wife, acted as a hostess when he was entertaining—as he did very frequently and boisterously—at his North London home at Kensal Lodge. In such witty and lively company, which regularly included the artists Daniel Maclise and George Cruikshank, as well as such distinguished figures as the writer and aspiring politician who would one day be Britain's prime minister, Benjamin Disraeli, it was as well that Eliza could hold her own. In fact, she was known for her sharp tongue and brilliant conversation.
More significant for the man who sent her the book, it was at one of these Kensal Lodge gatherings in the 1830s that John Macrone first expressed an interest in publishing Sketches by Boz—the work that launched Dickens' extraordinary career.
Charge 'em five shillings and make 'em wait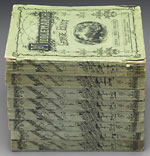 Middlemarch by George Eliot, Christie's New York on December 4, $68,500
One of the more unexpected success stories of the William Self sale was an original parts issue of George Eliot's well known novel. As so often happened at this time, her story was first issued in serial form, but Eliot and her companion, George Lewes, had suggested to her publisher, John Blackwood, that instead of the usual monthly form, the novel be published in eight parts, priced at five shillings each, and issued every two months, commencing in December 1871. Each part certainly gave the reader a larger than usual slice of the story, but the higher price and the two month wait between parts put additional pressure on the writer to keep her public interested and eager for the next installment.
This was something George Eliot was to find quite challenging, and some complained that her study of provincial life was too ponderous and didactic, but it proved a modest popular success, selling 5,000 copies of the parts edition and another 3,000 copies of the four-volume book edition. This set in the original green wrappers, however, was a runaway success—the selling price being more than ten times what had been predicted.
Jude the Outrageous—Dirt, Drivel and Damnation!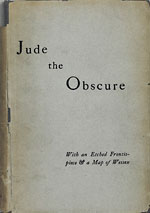 Jude the Obscure by Thomas Hardy, Christie's New York on December 4, $35,000
This tale of "a deadly war between flesh and spirit," to use the writer's own words, was first published serially in Harper's New Monthly Magazine, beginning in December 1894. To ensure that it was suitable reading for an American family audience, Hardy had to abridge his tale quite severely. For the first bookform edition, issued in late 1895 by McIlvaine & Co. of London, Hardy restored the text to its original form, but so discouraged was he by the "outrage" then expressed by British critics and readers, that he eventually gave up novel writing and devoted the rest of his literary life to poetry.
No offence could be taken nowadays, but at the time, the Pall Mall Gazette's reviewer cried "Dirt, drivel and damnation" and even his friend Edmund Gosse found it "grimy'" and "indecent." In his preface to a 1912 edition, Hardy described how the book was "burnt by a bishop—probably in his despair at not being able to burn me."
Part of a mixed property sale held on the same day that the Rockefeller Plaza auctioneers were selling the William E. Self books that feature so prominently this month, this copy still sports a simple but rare dust jacket.
Not only that, it bears a presentation inscription to someone Hardy hoped might by more sympathetic, Mary Anna Curzon, Duchess of Abercorn, and contains a related letter in which he writes, "Even if you do not like it you will, I am sure, understand and sympathize with the shadowy personages it concerns." In his letter Hardy also refers to an earlier conversation at which they appeared have discussed divorce. Shocking!