Poe poems, a Mississippi map, and A Christmas Carol haul in six figures at last month's auctions
Jane Austen in Pictures, or Life with the Grenvilles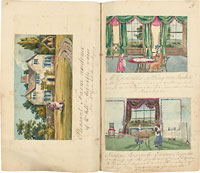 An Illustrated Manuscript, compiled 1825-29 by Mary Yelloly (with help from her mum), Christie's London on November 24, £27,500($45,430)
'A Picture History of the Grenville Family' was described by the saleroom as "an extraordinary pictorial record of Regency England, a visual counterpart to the world of Jane Austen's novels," but this story was largely the work of a little girl named Mary. Mother and her siblings helped out, and some text is in a more mature, cursive hand, but this charming, 204-page manuscript must really be credited to Mary Yelloly, the daughter of Norwich doctor.
In over 250 watercolor drawings, Mary documents the life of the imaginary Grenvilles, their children, and the governess, at home in the fashionable and modern Rosedale House in Gloucestershire, at Woodlands Hall, and later at the even grander Bellemere Park in Cumberland.
Many illustrations show daily routine—the children playing shuttlecock, practicing their dancing, writing to cousins, visiting in the neighborhood, and, of course, tending to the sick and the poor. Mary's detailed depiction of interior domestic detail, reported Christie's, offers an insight into the tastes of the period in matters such as the use of color, furniture arrangement, picture hanging, window treatments, etc.
In Mary's story, the Grenvilles take two extended tours, in one traveling from Cornwall to Cumberland, by way of Stonehenge, Arundel Castle, and Carrow Abbey (Mary's real-life home), and in the other visiting northern England and the Scottish Highlands and Islands, including Iona and Skye.
The ninth of ten children, Mary was just eight when she began her story—the same age as the eldest Grenville daughter—but her own life was cut cruelly short. Mary died of consumption at 21.
Flushed with Success
The Illustrated Plumbing and Sanitation, by George B. Davis and Frederick Dye, 1897, Bonhams Oxford on December 1, £288 ($479)
Not every reader's first choice gift for endless hours of fun and amusement, to be sure, but for the plumber in someone's life, a beautifully preserved, six-volume work containing everything you could possibly want to know (and more) about ancient plumbing might be the ideal gift. What more recommendation could you ask for? Davis, as the cover tells us, revelled in the title of 'Examiner to the Worshipful Company of Plumbers,' while Dye was the real author of the unforgettable 'Hood on Warming Buildings.' All six volumes of the set seen in this Oxford sale were just as bright as the one seen here.
No Place for Old Typewriters?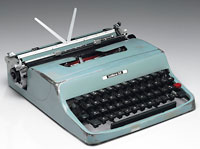 Cormac McCarthy's old Olivetti, Christie's New York on December 4, $254,500
Portable typewriters are nowadays more likely to be found in garage sales or surplus office equipment disposals at best, not in major salerooms. But this worn Lettera 32 is the machine on which Cormac McCarthy produced every single book he has ever written—including three that have yet to be published!
Purchased for $50 in a Knoxville pawnshop in 1958, "It has never been serviced or cleaned other than blowing out the dust with a service station airhose and by the fall of 2009 it was beginning to show serious signs of wear."
John Miller, a friend and colleague at the Santa Fe Institute, a non-profit, interdisciplinary scientific research center where the writer, who lives in New Mexico, has an office, offered to buy him a new one, said McCarthy. "Then he asked what I intended to do with the old one … Why don't you auction it off and give the proceeds to the Institute? I thought that was a good idea."
McCarthy gave his first ever television interview in 2007 when his short and spare post-apocalypse novel, The Road, was selected as a book club selection on The Oprah Winfrey Show. He told her that he does not know any other writers and much prefers the company of scientists. He also revealed that some keys on that old Lettera may be in better shape than others.
McCarthy prefers "simple declarative sentences" and uses capital letters, periods, an occasional comma, a colon for setting off a list, but "never a semicolon." Neither does he use quotation marks for dialogue and believes there is no reason to "block the page up with weird little marks."
Including all drafts and his correspondence, McCarthy reckons he has tapped out some five million words on his faithful Olivetti, from the novels inspired by his early life in Tennessee to his two most recent successes, No Country for Old Men and The Road.
Media interest always meant that the original $15,000-25,000 estimate was likely to be exceeded, but the result must have been surprising. McCarthy invited the successful bidder to join him for a celebratory lunch. And, as one of those writers who prefers to stick with autograph or typewritten manuscripts rather than move on to computers, he now has a replacement machine—another antique Olivetti that cost $11!