Collecting Print
A Leaf from a Gutenberg Bible and a Million-Dollar Comic Book Illustrate the Scope of Recent Auctions
"The first and in many ways the greatest of all printed books"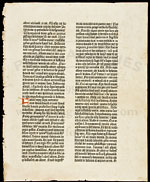 A leaf from the Gutenberg Bible, PBA Galleries of San Francisco on March 18, $54,000
Only the no.1 spot in this month's selection could possibly serve for this single leaf from the most famous book in the annals of western civilization – the book that changed everything! The way the world was changed by the dissemination of information and ideas that resulted from the invention of printing with moveable types hardly needs elaboration here, but the measure of Gutenberg's astonishing technical and artistic achievement at the very birth of printing deserves a few words.
I have had occasion to quote from Printing and the Mind of Man* several times this month, and on this matter its editors wrote: "Standards were set in quality of paper and blackness of ink, in design and professional skill, which the printers of later generations have found difficult to maintain; it is only in legibility of type that they have been able to improve on this, the first and in many ways the greatest of all printed books."
Most Gutenberg leaves seen at auction come from the copy of the 42-line Bible of c.1450-55 broken up and marketed as single and groups of leaves by the American book dealer Gabriel Wells in 1921. These usually come with A Noble Fragment, an essay on the Gutenberg Bible by A. Edward Newton that one received upon purchase from Wells, but this leaf, said the saleroom, is almost certainly from the incomplete copy broken up by Scribner's Bookstore in 1954.
This particular leaf, part of the library of software designer and inventor Roger Wagner, comes from the second Book of Samuel.
* Edited by John Carter & Percy H. Muir and first published in 1967, Printing and the Mind of Man was revised and enlarged in 1983 and the initials PMM are probably more often used that any other bibliographical reference whenever important and influential books are described.
Ribaldry on God's Wonderful Railway
Original Artworks by W. Heath Robinson for Railway Ribaldry, Morphets of Harrogate on March 4, £4,830 ($7,260) & £4,600 ($6,915)
Having featured illustrations by William Heath Robinson in last month's reports, I had no plan that he would back with us so quickly. But then I found this 82-lot sale of all the ink drawings and vignettes he produced in 1935 for a comic celebration of 100 years of the Great Western Railway.
As part of their centenary plans, the GWR–fondly known to its many admirers as God's Wonderful Railway–commissioned Heath Robinson to produce a book of railway humor in his characteristic style, and 75 years later the complete set of artworks were offered by this Yorkshire saleroom as part of the vast railway collections of the late Malcolm Guest.
The collection totalled £167,035 ($251,120), and a great many of the lots were bought by one specialist dealer in original illustration and artwork, Chris Beetles of London. Two of the more successful are illustrated here: 'The First Excursion Train' (the slightly more expensive of the two) and 'The First Sleeping Compartment.'