Gently Mad – 8.1
Collect, Protect, and Preserve
The new archivist of the United States on the challenges ahead
By Nicholas A. Basbanes

Nicholas A. Basbanes recently received a National Endowment for the Humanities fellowship to work on his book on paper, which is forthcoming from Knopf. His most recent book is Editions & Impressions, a collection of essays. His other works include the acclaimed A Gentle Madness, Every Book Its Reader, Patience & Fortitude, Among the Gently Mad, and A Splendor of Letters.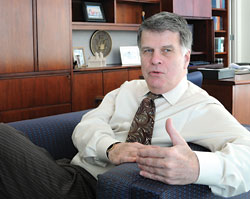 When David S. Ferriero was sworn in this past November as the archivist of the United States, he became the first librarian to assume responsibility of the nation's most vital documents, a collection that is quite possibly the largest gathering of its kind in the world. Previous directors of what is now known as the National Archives and Records Administration (NARA) have included historians, educators, and politicians—each of whom undoubtedly brought to the task special skills that were needed at the time of their appointments—but Ferriero, the tenth person to hold the position since 1934, is the first to be selected on the strength of a distinguished career devoted entirely to the preservation and management of books, research materials, and historical records.
"Ten billion files," Ferriero said with a roll of the eyes during a recent interview at his new digs in the nation's capital, to which he added, with tongue very much in cheek, "I am able to get people's attention very quickly around here by suggesting that we do an item-by-item inventory." Given that most government records contain multiple pages, the actual numbers are believed to total as many as 80 billion pieces of paper, and that figure doesn't take into account the vast collection of motion pictures, photographs, and audio recordings that are also part of the collections.
In addition to Archives I on Pennsylvania Avenue in Washington, D.C., home of the Declaration of Independence, the Constitution, and the Bill of Rights, and Archives II in College Park, Maryland—an enormous repository that by itself accounts for 1.5 million square feet of storage space—the NARA network includes fourteen regional records centers and thirteen presidential libraries, and employs about three thousand staffers. Despite the enormity of the holdings, a good deal of the work Ferriero has been doing since assuming office is to familiarize himself with the collections. "I do that by spending as much time as I can getting to know the staff, learning from them about what works and what doesn't work—what excites them," he told me.
As the designated depository for 256 government agencies, the National Archives collects documents as varied as income tax returns, immigration and naturalization records, veterans benefits claims, blueprints of federal buildings, cancelled Social Security checks, bankruptcy court filings, passport applications, ship passenger lists, military unit records, federal prisoner files, crop reports, maps of national parks, census records, even official documents of the Confederate States of America. Especially mind-boggling is that what is kept permanently represents only two to three percent of the paperwork generated each year by the federal bureaucracy. Individual tax returns, for instance, are held for seven years, corporate returns for 75.
During my visit to Archives II in February—just a week after a brace of crippling snowstorms had brought the federal government to a standstill—metal trolley carts were filled with protective clamshell boxes pulled from the cavernous stacks, and the reading room was bustling with researchers. Week in and week out, by far the most popular archives, I learned, are documents relating to the assassination of John F. Kennedy in 1963, the administration of Richard M. Nixon during the Watergate years, and most surprising of all—I wouldn't have guessed it in a dozen years—files and materials gathered by the U.S. Air Force between 1946 to 1996 dealing with what UFO aficionados believe was the crash in 1947 of an alien space ship in Roswell, New Mexico. (All I saw during a tour of the storage level in question was a broken reflector panel recovered from a high-altitude weather balloon that did, indeed, crash in a rancher's field, causing a sensation among local residents and fueling the speculation of conspiracy theorists ever since.)
A native of Beverly, Massachusetts, Ferriero's first library job was shelving books part time at the Massachusetts Institute of Technology in the early 1960s while pursuing his bachelor's degree at Northeastern University in Boston. A medical corpsman in the Navy during the Vietnam War, he went on to earn a master of library science degree from Simmons College, then returned to MIT where he held a succession of positions before becoming university librarian at Duke University in Durham, North Carolina, in 1996. Former Duke president Nannerl O. Keohane would later credit him with having brought the university libraries "into the electronic age" and helping "all of us understand technology's challenging issues and opportunities."
From 2004 to the time of his appointment last year by President Barack Obama, Ferriero, 63, was director of the New York Public Library, with responsibilities that included supervision of four research libraries and 87 neighborhood branches. He also developed partnerships for digital initiatives with Google and Microsoft, and directed a website that reaches more than 25 million unique users annually. Now, at the National Archives, Ferriero has made the preservation of electronic documents a top priority as well. "Most federal agencies have migrated to some form of electronic record, but each one has been allowed to build their own operating system," he said. "What that means is that there are no preservation standards in place that apply to everyone."
Ferriero compared the situation with the lamentable state of paper management that characterized the months leading up to the introduction of a centralized storage system in 1934. Robert Connor, the first national archivist, reported then that the government's documents were haphazardly "scattered throughout the country, stored wherever space can be found for them, in cellars and sub-cellars, under terraces and over boiler-rooms, in attics and corridors, piled in dumps on floors and packed into alcoves, abandoned carbarns, storage warehouses, deserted theaters, or ancient but more humble edifices that should long ago have served their last useful purpose."
Now a federal employee, Ferriero's salary is $162,900, about half what he was making as the Andrew W. Mellon Director of the NYPL, a privately endowed position. He accepted the Washington appointment, he said, because he believes his background makes him uniquely suited to the challenges the agency now faces. "Every one of my career moves, from MIT to Duke, from Duke to New York Public, was always based on my belief that I could make a difference," he said. "When you strip it away in terms of what my responsibilities are, they have been the same across my professional career. That is to collect and to protect information, to encourage its use, and to insure that the content is available forever. Those are the principles, regardless of format, regardless of who the user is. And that's been my work since MIT."