Fine Books Review
Beauty and the Book
Whether you curl up and read it, shelve it for reference, or place on the coffee table, this is one book you don't want to miss By Rebecca Rego Barry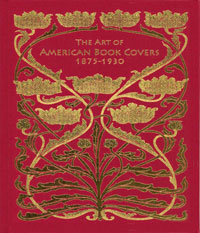 The Art of American Book Covers, 1875-1930
Richard Minsky; George Braziller Publishers; 136 pages; 100+ full color illustrations; cloth-bound hardcover; $34.95 Buy it Now
Feel free to judge this book by its cover—a sumptuous red cloth with a dazzling gold-stamped design; or by its illustrations—more than 100 full color plates exquisitely reproduced; or by its text—an introductory essay and meticulous captions written by the much-admired book artist Richard Minsky. The Art of American Book Covers (AABC) is a prize every collector deserves, particularly those whose interests include book design, decorative bookbindings, women book artists, American Gilded Age literature, or the Arts and Crafts movement.
Minsky writes about a Golden Age of book cover art that lasted from the 1870s until the Great Depression, during which publishers commissioned artists and designers to create exciting, eye-catching covers. The art was neither Victorian nor modern, and it had many influences, including Arts and Crafts, Orientalism, and Art Nouveau. Die work, gold stamping, patterns, and artists' monograms or devices on the cover are some of the key elements of this Golden Age that Minsky deftly describes in his introduction. He also provides some background information on the major artists.
Sarah Wyman Whitman, for example, was likely the first professional female book designer. She created hundreds of covers for Houghton Mifflin and had her own stained glass studio (all while playing Boston hostess for her wealthy husband). Her work is closely associated with novelist Sarah Orne Jewett, whose The Country of the Pointed Firs is considered a minor American classic. Minsky offers a color illustration of that gold-stamped green cloth cover, as well as two of Whitman's other commercial bindings.
Alice Cordelia Morse, who, like Whitman, studied stained glass with John La Farge, also figures prominently in AABC. She likened the two arts: "I think book covers resemble glass more than, say, wall-paper or silk in that you have a complete design in a given space whereas wall-paper and silks repeat indefinitely." Some of her book cover art was recently exhibited at the Grolier Club. Several fine examples can be found in Minsky's book.
Only someone with the eye and the experience of Minsky could write engaging captions that capture both bibliographical detail and artistic analysis. For Margaret Armstrong's cover of Robert Browning's Pippa Passes, he writes, "Pink, brown, bright and matte gold stamping on olive green cloth with white cloth onlay. White stamping flaked notoriously before 1901. A cloth onlay enabled bright white to be used in the composition." For Edwin A. Abbey's cover of Sketching Rambles in Holland, he notes, "Gold, black, silver, and gray on a light hay-colored cloth, with blind stamping on the back cover. The gold covers so much of the cloth that it creates the illusion of gold cloth with an inlaid panel. Abbey's development of Art Nouveau is in full flower here, with organic lettering taking a dominant place…"
The Decorative Designers, Marion L. Peabody, Dante Gabriel Rossetti, Rockwell Kent, and Maxfield Parrish all find a place on the pages of AABC. There's also an illustrated list of artists' monograms and a bibliography.
No stranger to Fine Books & Collections readers, Minsky is the founder of the Center for Book Arts in New York City. His book art has been exhibited and collected all over the world. In the past, Minsky published two limited edition catalogues of his American Decorated Publishers' Bindings, 1872-1929 (which are still available on his website). The Art of American Book Covers is the first trade edition of his work, and it's an opportunity not to be missed.