Dear Reader
The Promise of Spring
Fine Books back in print, and a ticket to Mississippi By Rebecca Rego Barry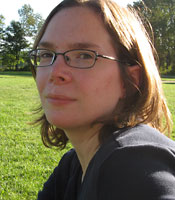 In one of his most famous poems, T.S. Eliot wrote "April is the cruellest month," and I couldn't disagree more. April is the month of rebirth, and at Fine Books, we're taking that rather literally. Round about the time you are reading this, our new quarterly print edition will be in the mail, on its way to your doorstep (if you've remembered to subscribe). I know many of you—myself included—are thrilled to see we're back in print, and I think you'll agree that it's a promising sprout for the future of print.
More good news for print can be found in this month's Interview with Robert Pranzatelli, who recently launched a new literary magazine. And perhaps even on the pages of Richard Minsky's gorgeous new book, reviewed in this issue.
In the meantime, Mississippi is the hot ticket this month. Nick Basbanes takes us on a rollicking literary tour of the Mississippi Delta, from Greenwood to Oxford, and asks readers about their favorite literary travel guides. Our feature is also set in Mississippi—Curator Peggy Price tells us about Charles F. Heartman and his eccentric, Depression-era commune called the Book Farm in Hattiesburg.
Plus Jeremy Dibbell delivers the goods on Italian book thief Guglielmo Libri in his Crimes column, and Christopher Lancette covers the new National Collegiate Book Collecting Contest (started by Fine Books & Collections in 2005).
Incidentally, if you're interested in more T.S. Eliot, Ian McKay reports in his column this month that a signed edition of Poems will set you back about $6,000.
Happy spring!
Rebecca