sponsored by
America at Auction
Abel Buell's map, John Audubon's drawings, and Francis Scott Key's song
So many riches were provided by end-of-year sales that selecting just a few to fill this column I was spoilt for choice. The most expensive printed book sever sold at auction, a complete, subscriber's copy of Audubon's Birds of America, really had to go in this month, as did the most expensive map ever seen at auction, Abel Buell's map of the newly independent United States, but the typescript document by which James Naismith laid the foundations of basketball, sold at $4.34 million and Bobby Kennedy's copy of the 'authorized edition' of Abraham Lincoln's famous Emancipation Proclamation, sold at $3.78 million, will have to go on hold until next month.
Bu that does at least leave room for the most expensive piece of sheet music sold at auction, as well as two other very different musical entries and record breakers in the fields of astronomy, economics, and law.
The Counterfeiter's Birth of a Nation Map
New and Correct Map of the United States of America by Abel Buell, ($2,098,500) at Christie's New York on December 3.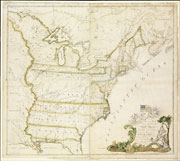 The name Abel Buell is not one that springs readily to mind when considering the great names of cartography. But his monumental four-sheet wall map of the newly independent United States is now the most expensive printed map ever sold at auction.
The first to be printed in the U.S., and in its title cartouche, the first to include the stars and stripes, it is in fact a map of many firsts, but is known in only a handful of copies, all of them in institutional collections. This was the first time that this historic and opportunistic map had ever been seen at auction.
The young Buell gained early notoriety in his native Connecticut when, in 1764, he was found guilty of counterfeiting and received the mandatory sentence of imprisonment, cropping, and branding—though it seems his punishment was carried out with a certain restraint. State records tell us that only the top of his ear was cropped off, and that he kept it warm on his tongue until it was possible to replace it and let it grow back, while the letter indicating his crime was burnt onto his forehead as high as possible.
Described by his only biographer as "a restless, unstable, inventive genius," Buell was apprenticed as a silversmith but also worked as an engraver and typefounder, in which latter field he was the first in America. He also invented a machine for grinding and polishing precious stones and, somewhat ironically, given his early misdemeanors, one of his first post-revolutionary ventures was to cast Connecticut's first pennies on a minting machine of his own manufacture.
For his map, Buell drew on and synthesized the work of earlier mapmakers. His key sources were the celebrated Mitchell and Lewis Evans maps of 1755 (the former being the map actually used in negotiations at the Treaty of Peace), but he also borrowed from Thomas Hutchins' map of the Trans-Allegheny region and Jonathan Carver's map of his explorations of the Great Lakes and Mississippi.
Buell took a few liberties of his own—running the prime meridian through Philadelphia rather than London, or even Paris, for example—and taking advantage of the fact that state borders were still highly confused and poorly established, showed his own home state with borders reaching as far west as the Mississippi. New York is swallowed up by the great Connecticut landmass and not even named on the map.
William McMurray had, in August 1783, already proposed a new map of the new United States, but he found subscribers hard to come by, and Buell, who had the advantage of being his own printer, was first to publish. However, it was not until 1924 that the Library of Congress, which does not own a copy, finally acknowledged that Buell, not MacMurray, had produced the first map of the new United States.
This copy was sent for sale by the New Jersey Historical Society, to whom it had been given in 1862 by William L. Dayton, a New Jersey senator, who, whilst serving as Lincoln's Minister Plenipotentiary in Paris, had come across it on one of his frequent excursions to the city's book and print stalls. Despite some chipping around the margins, it is one of the best preserved of the seven recorded copies, largely because it was never varnished and had lain undisturbed for almost one hundred years.