Leading Men
The Gospel According to Eric Gill
The Four Gospels of the Lord Jesus Christ, illustrated by Eric Gill, $132,000 at Swann Galleries of New York on April 7.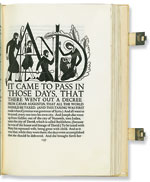 One of the finer and more instantly recognizable private press books of the last century, the 1931 Golden Cockerel setting of the Four Gospels text from the King James Bible, is a masterful fusion of text and illustration as conceived by the publisher and printer, Robert Gibbings, and given dramatic visual impact by the genius of Eric Gill.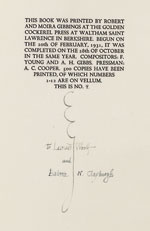 But this record-breaking copy was exceptional. Not only is it one of only twelve copies printed on vellum and bound in gilt decorated white pigskin by Sangorski & Sutcliffe, it is the only inscribed copy known to have come to auction.
It is a copy that Gill inscribed to Leonard Woolf. The two men were close friends and in the year the Golden Cockerel Four Gospels was published, Gill was working with the Woolfs, having been asked by Leonard and Virginia to design and cut initials for their Hogarth Press edition of Vita Sackville-West's translation of Rainer Maria Rilke's Duineser Elegien.
Beneath the inscription to Woolf are added the words "and Babette N. Clayburgh," although when and how it passed from the Woolfs into her hands is not clear. Babette and her husband, the San Francisco silk magnate Herbert Eugene Clayburgh, were prominent book collectors.
A Taste for Tapas
A Catalogue of the Different Specimens of Cloth collected in the three Voyages of Captain Cook, £152,100 ($243,590) at Bearnes Hampton & Littlewood of Exeter on March 30.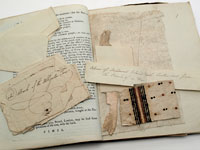 Perhaps the most curious, and certainly one of the rarer publications generated by Cook's Pacific voyages, this catalogue was published for Alexander Shaw in 1787 and contains actual specimens of the tapa, or barkcloth that was used principally as clothing, but also served as a medium of exchange and a symbol of wealth in the South Seas.
Each of the small number of surviving copies is a more or less unique production, with specimens briefly identified as to source or use and purpose. This one boasted thirty-eight samples, and though the final leaf, numbered thirty-nine, is blank, the now loose specimen of lace-bark may have once occupied that place.
The price came close to doubling the previous best—the $144,000 paid in 2006 at Christie's New York for the example in Cornelius Hauck's 'History of the Book' collection.
A March 10 sale held by PBA Galleries of San Francisco included two much more recent, limited edition studies of barkcloth from Hawaii and Polynesia. Published for the author, Donald R. Severson, at the Arion Press, these too presented mounted original specimens in folders plus text booklets, all contained in half goatskin portfolios. One of just ninety-five copies of Specimens of Hawaiian Kapa (1978) sold at $4,800, while one of 150 copies of Specimens of Polynesian Tapa (1984) reached $3,600.