Leading Men
Not Just Another Joe
The High Window, by Raymond Chandler, $15,535 at Heritage Auctions of New York on April 7.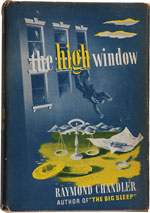 This 1942 first printing of the third of Chandler's Philip Marlowe novels is inscribed "Joe Messick from Raymond Chandler, La Jolla, Oct 3, 1950." No clue as to Joe's identity or the book's provenance was offered in the catalogue, but my shelves produced the 2004 Sotheby's New York catalogue of the Maurice Neville library of modern literature, which reveals all.
Joe was the husband of Juanita Messick, Chandler's favorite secretary, who from 1950 became almost a member of the family, sharing meals with Chandler and his wife, Cissy, and working in the two bedrooms that he had converted into an office.
There were other copies of Chandler's books inscribed to Joe or Juanita in the Neville library, including a first of Farewell My Lovely, signed and inscribed to Joe on the very same day in 1950. That one reached $28,800, but this very copy of The High Window was in 2004 left unsold against an estimate of $20,000-30,000.
The pages of book are a bit toned, or browned as some prefer, and there is also some toning or discoloration to the edges and spine of the jacket, but only one other copy has made more at auction.
That one had seen repairs and restoration to both the jacket and binding, but it was inscribed "For Billy: I'd have made it more sexy, if I had known you sooner. Ray," to the film director Billy Wilder, and it sold at $25,875 in a 2003 sale held by PBA of San Francisco. It was reading and admiring The High Window that had led Wilder to engage Chandler as a screenwriter, and the first of their many collaborations was in 1943 on the screenplay for the Oscar-winning film of James M. Cain's Double Indemnity.
Old Bits, but Rare Bits
Bits of Old Chelsea… by Walter W. Burgess, £4,348 ($7,110) at Dominic Winter of South Cerney on April 6.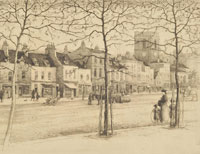 As far as titles go, this one is hardly inspiring, but the forty-one tipped-in etchings, all signed in pencil, that make up this folio collection of 1894 are much admired. Only one hundred and ten copies were printed and many, I dare say, have been broken up in the past, so it is now rather scarce. Dealers may ask $400 or more for individual plates.
To complement Burgess' drawings of this long fashionable and artistic quarter of London, descriptive texts were provided by Lionel Johnson and Richard le Galliene.
Nothing to Declare but My Genius
Signed photo-portrait of Oscar Wilde, £20,400 ($30,510) at Bonhams of London on March 29.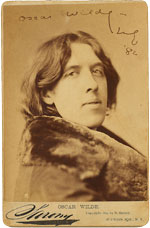 Like the Keats letter and one of the two Ralegh items featured this month, this was part of the Portraits & Papers collection sale at Bonhams, a mix of letters, documents, prints, and photographs formed by Roy Davids, a collector, dealer, and former head of both the book department and marketing at Sotheby's in London.
This is a cabinet-size print of one of the twenty-seven photographs that the leading New York photographer Napoleon Sarony took at the start of the writer's 1882 lecture tour of America. It is signed and dated '82. Wilde sports a long, heavy, and fur-lined overcoat that he wore when he set sail for New York on Christmas Eve, 1881—without a word of the lectures on aestheticism that he was scheduled to deliver yet written—and which accompanied him everywhere. "It was all over America with me … it knows me perfectly."