Leading Men
Lincoln's Home Run
The National Game. Three "Outs" and One "Run." Abraham Winning the Ball, by Louis Maurer(?), $10,800 at Swann Galleries of New York on March 31.
Reproductions of a copy in the Library of Congress collections have made this Currier & Ives lithograph of 1860 quite a familiar image, but saleroom appearances are rare. In fact Swann could find no record of any other copy passing through the salerooms, and while print sales may not be as well documented and listed as are those of books—and please correct me if I am wrong in that assumption—this observation will probably have helped raise the bidding well above the suggested $800-1,200 range.
The year 1860, I am told, was one in which baseball "really stepped forward as the national sport," and it was presumably this growing popularity that saw the game selected as a vehicle for this pro-Lincoln political cartoon, published two months before the presidential election of that year. In what is believed to be the work of the German-born artist Louis Maurer, Lincoln stands on the home plate, holding the ball and a railroad tie as a bat, telling his opponents that they need a "good bat" to hit a home run.
The legend "equal rights and free territory" is seen on Lincoln's bat and some phrase associated with their political stance appears on those held by the Constitutional and Democratic candidates, Bell, Douglas and Breckinridge. The latter, whose bat bears the words "slavery extension" holds his nose and flees from the skunk at his feet, saying, "I guess I'd better leave for Kentucky, for I smell something strong around here, and begin to think that we are completely skunk'd."
At the time, I gather, "skunk'd" was used as a baseball term to describe a shutout or a large margin of victory. Perhaps it still is.
Mrs. Beeton at 150
The Book of Household Management, edited by Mrs. Isabella Beeton, £8,540 ($13,850) at Bloomsbury Auctions of London on March 24.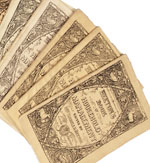 An almost unheard of complete set of the twenty-four original parts of a book that has achieved iconic status and is still in print to this day, albeit in a form that would be unrecognizable to Mrs. Beeton's Victorian readers.
The price far exceeds those normally seen for 1861 first bookform editions and almost doubles the record that has stood since 1997, when Sotheby's London got £4,600 (then $7,790) for an exceptional first issue copy in original cloth that had a Beeton family provenance and contained a letter from Isabella Mary Beeton to her husband and publisher.*
But then the only other example of an original parts issue I could find was one, partly disbound and with some wrappers loose and torn, that made around $200 at Sotheby's over thirty years ago.
For one hundred and fifty years the name Mrs. Beeton has conjured up a jolly matron with a wealth of experience, above and below stairs, but Isabella was just twenty-one when she began compiling her guide to running a Victorian home, and she died just seven years later.
* The really expensive Beeton publication—one that has made as much as $156,000—is the 1887 Beeton's Christmas Annual, though by that time financial difficulties had long since forced Isabella's husband to sell his publications, including the copyright to what was by then known simply as 'Mrs. Beeton,' to another publisher, Ward Lock. That annual contains the first appearance in print of a Sherlock Holmes story, "A Study in Scarlet."