Leading Men
A Raleigh By Any Other Name
Sir Walter Ralegh Letter to Bess of Hardwick, £36,000 ($54,675) at Bonhams of London on March 29, and a Signed Document, $26,290 at Heritage Auctions of New York on April 8.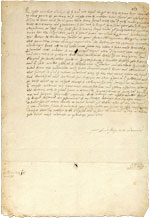 Sold as part of the Roy Davids Papers & Portraits collection, the London lot was billed as "one of only two autograph letters signed by Ralegh ever likely to come on the market," all others in the hand of the Elizabethan courtier, writer, adventurer, and explorer being safely tucked up in institutional collections.
In a 1593 letter to Elizabeth, Countess of Shrewsbury (familiarly known as Bess of Hardwick), Ralegh makes a lengthy and elegant apology for neglecting her during his period of disgrace—a reference to Elizabeth I's displeasure at discovering that he had secretly married yet another Bess, one of her Maids of Honour.
Both Ralegh and his wife, Elizabeth Throckmorton, spent time in the Tower of London for their deceit, and he tells the countess that he is now able only to present "the withered le(a)ves of an unprosperus and blasted fortune" but wishes to continue to honor and serve her, despite this period of "forgetfulness."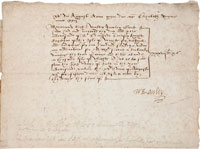 The letter was last seen at auction in 1974 at Parke-Bernet in New York, when sold as the property of Harry J. Sonneborn, the financial mastermind behind McDonald's.
Ralegh's colorful life included financial involvement in the abortive attempts to establish a colony at Roanoke in what is now North Carolina, expeditions to South America in search of El Dorado, as well as court and political intrigues that saw him again imprisoned in the Tower, where he busied himself writing his History of the World.
Execution at the order of James I was his end, but sold as part of the James Ring collection of American history, the Heritage lot was a reminder of his younger, more successful years—a 1580 receipt bearing his signature, it related to expenses incurred by troops under his command as he waited on the Isle of Wight, prior to sailing for military service in Ireland. Ralegh's name has come down to us in a variety of forms, and here we had the rarely seen alternative spelling (and by definition, pronunciation) as "W. Rawley."
Flash! Bang! What a Picture!
Signed photo-portrait of Jesse James, $51,240 at Leslie Hindman of Chicago on April 5.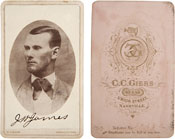 Catalogued as "probably the only extant signed photograph," and making its first appearance on the market in over fifty years, this cabinet card photo-portrait of the legendary outlaw was taken in the Union Street studio of Nashville (Tennessee) photographer, Carl Casper Giers, whose ornate stamp appears on the back of the card.
According to Phillip W. Steele's The Many Faces of Jesse James , the James brothers are believed to have spent the latter part of 1868 and most of the following year in Nashville, following a bank raid in Russellville, Kentucky, that had netted them $14,000—more than adequate for a session with the local photographer.
At the time, James was courting his Missouri cousin and future bride, Zee Mimms, and the photograph is accompanied by a letter from a previous owner, Andrew MacKellar (a captain of the famous Cunard ocean liner Queen Mary) stating that he had acquired the photograph from Calvin Tilden Owens, husband of Jesse James' granddaughter, Ethel Rose James.
Ethel had confirmed its authenticity and explained that it had been bequeathed to her on the death of her grandmother, Zee.