Sponsored By
Bloomsbury Auctions
The World's Leading Auction House for Rare Books and Works on Paper. Now Accepting Consignments.
It's a Jungle Out There
Bengal Panorama, Dominic Winter, South Cerney, £4,230
This well-preserved 19th-century panorama of Bengal troops on the march unfurls to more than 20 feet long. Made up of 18 hand-coloured sections, it was printed and published by one of the most famous names in 19th-century lithographic printing, Day & Haghe. In its original cylindrical case, it sold for £4,230 ($6,005) to London dealers Marlborough Rare Books on January 28.
The panorama was described at the time as "A Sketch by an Officer in that Army." The officer has since been identified as Captain William Ludlow of the 12th Bengal Native Infantry, and I assume he provided the introductory and descriptive text, and brief explanatory notes, accompanying each of the vignettes (e.g., "Spiking a Captured Gun" or "A Sporting Elephant").
I haven't seen the panorama in its entirety, but the catalogue entry says it "manages to convey the logistical and military problems faced by the British army in India in both an amusing and evocative style." The elephants' marching song, from the Disney version of Kipling's Jungle Book would probably make a good soundtrack for viewing.

Christie's Tragedy
A Poirot Mystery, Lyon & Turnbull, Edinburgh, £5,250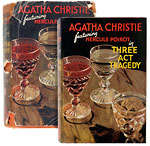 Two copies of Agatha Christie's Three Act Tragedy show what a difference a signature can make. A finely preserved copy, which has a first issue jacket showing just a few minor repairs, sold for £2,400 at Sotheby's London in 2006. The copy seen here has all sorts of tears and creases in the jacket, and parts of the original orange cloth binding are faded, so it only made £5,520 in a February 4 sale held by Lyon & Turnbull. This copy, however, had the bonus of the author's signature on a front endpaper.
Both copies were catalogued as first editions of 1935, as published by Collins for The Crime Club, but the Poirot story had already been published the previous year in the USA—twice! The UK edition bore Agatha Christie's original title, Three Act Tragedy. In America it first appeared serialized, in 1934 summer issues of the Saturday Evening Post, then came out in book form in October. The British edition did not appear until the following January.
The book's reception was mixed but mostly welcoming. Isaac Anderson, in a New York Times review, said that the motive was "most unusual, if not positively unique in the annals of crime," but added that "since this is an Agatha Christie novel featuring Hercule Poirot [it] is quite unnecessary to say that it makes uncommonly good reading."
Medical Mystery Tour
1624 Manuscript, Dominic Winter, South Cerney, £3,680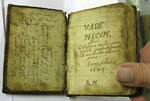 A tiny manuscript list of medicaments was among the more intriguing lots offered in a Dominic Winter of South Cerney sale of January 28. Just four inches tall, this little "Vade mecum, sive Catalogue medicamentorum," as it is described on a title page bearing the date 1624 and the initials R.M., comprises some 100 leaves on which assorted curative substances are listed in English and occasionally Latin. The pages show some browning or soiling, as well nibbling by rodents, but the manuscript sports a contemporary blind-panelled calf binding, stamped on the upper cover with what one is tempted to call a crowned Tudor rose.
A number of bidders thought it worth more than the £200-300 suggested by the auctioneers, and in the end it sold for £3,680 ($5,225) to John Hart, a dealer from Fakenham in Norfolk. Hart admitted that it was a speculative purchase, rather more expensive than anticipated—but who knows what could emerge about its origins?