Summer Sampler
Cook's Epitaph
The Life and Death of Captain Cook, Reiss & Sohn, Königsberg-im-Taunus, $181,815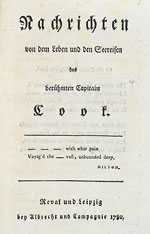 More on Captain Cook this month, as well. Another great Cook rarity emerged in this German sale of April 22-23. This was the first printed account in book form of Cook's death—strangely enough, first published not in England but in Estonia!
Cook was killed in Hawaii in February 1799, but news travelled slowly in the 18th century, especially if you were in mid-Pacific. Captain Charles Clerke, who continued the expedition's work, wrote to the Admiralty of the tragedy, but not until late August was the letter handed over to Russian officials in Kamchatka to be forwarded to the British ambassador in St. Petersburg, and from there sent to London. By this time Clerke himself had succumbed to TB and as his letter sped homewards, he was buried in Kamchatka.
The letter eventually arrived at the Admiralty in early January 1780, some 11 months after Cook's death, and the news was made public on January 11 in an issue of The London Gazette. However, Britain's ambassador in St. Petersburg had leaked some of its contents before that and the first report of Cook's death actually appeared in a Berlin periodical on the previous day.
Then some time in March, or later, there was issued in Reval (now Tallinn in Estonia) a work called Nachrichten von dem Leben und den Seereisen des bërumten Captain Cook.
Containing short biographical notes and details of Cook's earlier voyages, as well as passing references to the Hawaiian islands, this compilation (which was issued simultaneously in French) was apparently taken from an unsigned letter dated Kensington, February 4, 1780. Paraphrasing passages from that once confidential Clerke letter, this little tract, published (in the spring or summer of 1780?) by Albrecht & Company of Riga & Leipzig, is recognized as the first account of Cook's death to be published in book form.
This Tallinn imprint is of the utmost rarity, and in the German form known only from a copy now in the National Library of Australia. The copy in the Reiss sale, bound in contemporary boards with two other works of the period—including another Albrecht title about a 1775 Spanish voyage to the Pacific Northwest that contained several references to Cook—sold for a 10 times estimate of 127,600 Euros ($181,815).
Winston's Taste Good
Churchill's Menu Card, Mullocks, Ludlow, $8,420
A series of watercolours by the young Adolf Hitler drew most of the publicity for this April 23 sale of historical documents, letters and ephemera, "liberated" in 1945 by a British soldier. The watercolours sold at prices from $5,000-$20,000, but the sale also included an unusual item of Churchill memorabilia: In June 1954, Churchill, accompanied by his Foreign Secretary, Sir Anthony Eden, made his last visit to the U.S. as Britain's Prime Minister. When breakfast was served on his British Overseas Airways Corporation (BOAC) flight, Churchill made several notes on the menu card, and unless he was ordering for Eden as well, specified a substantial meal to be brought to him on two separate trays.
On the first he wanted a poached egg, toast, jam, butter, coffee and hot milk, a jug of cold milk and a small piece of cold chicken or other meat. On the second tray was to be placed grapefruit, a sugar bowl, a glass of orange squash (with ice) and a whisky and soda!
Churchill's instructions or notes on the menu card also include the words "wash hands," presumably an indication to the steward that he would need the wherewithal—and, of course, a note that he would be finishing off with a cigar!
Retained by the steward as a souvenir, Churchill's "Big Breakfast" menu card sold at £5,615 ($8,420).