Special Report
Reading in the Dark
A Sneak Preview from Kevin Johnson's Film Noir Opus, The Dark Page, Vol. II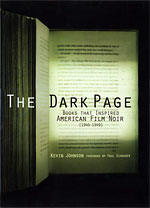 When Baltimore resident Kevin Johnson started selling books in 1997, he didn't think he would be publishing his own books before too long. But as a specialist in crime fiction, at Royal Books, Inc., he soon became aware of how many obscure crime books had become the basis for well-known movies in the film noir tradition. He also noticed that a lot of noir movies had "not just obscure crime fiction sources, but an interesting array of literary sources, as well, like Hemingway and Maugham." One evening, at a party ("I don't like parties, so I always talk to one person, or read a book"), Johnson picked up an art monograph showing vintage cereal boxes (Krazy Kids Food, by Steve Roden and Dan Goodsell). "I loved how the book was so specific, yet had a huge variety of stuff—all the crazy one-off boxes the cereal makers had tried," he recalled. "I had been thinking about doing a bibliography of film noir's literary sources, but I knew that would be pretty dry. After seeing the cereal box book, I started thinking it would be cool to show big pictures of the dust jackets, because they're such an important part of these books."
He pitched the idea to Bob Fleck of Oak Knoll Books, and despite it being something of a departure for Oak Knoll, Fleck decided to give film noir a try. So Johnson joined forces with fellow bookseller and photographer Dan Gregory, of Between the Covers, and designer John Malloy, and together they produced a volume called The Dark Page: Books That Inspired American Film Noir, 1940–1949. The first volume quickly sold out, and now Johnson's second volume, covering the 1950s, will be released by Oak Knoll next month.
Johnson says he still hasn't mined all of the possibilities. "I've got an idea for the third one—the last great era of crime cinema, 1965 to 1975." As he rightly says, "a whole bunch of amazing movies were made during that time"—Bullitt, Dog Day Afternoon, The French Connection, Madigan, Dirty Harry—a proud lineup that ended with the summer blockbuster success of Jaws. Johnson estimates that 65 percent of these movies had literary sources. And as he says, "Hollywood didn't yet have a vigorous system of vetting screenplays during this period, so all kinds of things got made."
With regard to film, Johnson calls himself "an enthusiast more than a scholar," and in that spirit he easily persuaded two fellow noir enthusiasts, film directors Paul Schrader and Guy Maddin, to write forewords to volumes one and two of The Dark Page. Following is an excerpt from volume two, in which Johnson discusses six books that took part in the great tradition of film noir.—Editor
Welcome to The Dark Page II, the second volume in a series that began with The Dark Page in 2007. This is a book about books, a book about American film noir, and a book about the novelists, screenwriters, and directors that make up the fascinating and rarely-discussed relationship between the two.
Every title you see in the pages that follow has been documented for the same reason—it was the basis for a film in the American film noir cycle between 1950 and 1965.
Film noir has been the subject of much scholarship since the 1940s, beginning in France and moving later to the United States, and has a well-established critical history that is unknown to the average filmgoer. The collision of this scholarship with the huge popularity of noir films has resulted in some major misconceptions.
The first and most common misconception is that film noir is a genre, when it is in fact a style. The noir thread runs through virtually every genre, including Westerns, melodramas, science fiction, crime, and horror. The 1956 sci-fi classic Invasion of the Body Snatchers is a film noir, as is the 1948 Western, Blood on the Moon.
The second most common misconception is that a film noir always involves detectives or a crime. While these elements are commonly found in noir films, they do not define the style, nor does the style require their inclusion. Noir protagonists run the gamut from housewives to bankers to journalists, and while a criminous element is typically somewhere to be found, it is often subtle, tangential to the story, or even altogether absent.
The third most common misconception is that film noir is meant to be a broad term, covering everything from a film like The Maltese Falcon to Roman Polanski's Chinatown to the Coen Brothers' The Man Who Wasn't There. The film noir cycle, by critical consensus, did not begin until 1940, and depending on who you ask, ended somewhere between 1959 and 1965. Key crime films before 1940, such as Little Caesar or Beast of the City, are considered noir antecedents, with the distinction being that all the elements of noir had not yet come together. Films after 1965 are considered post-noir or neo-noir, and that dividing line is based on the point at which noir films became "self-aware." In other words, once filmmakers were consciously making films in the noir style, the original cycle had effectively come to an end.
The noir style is defined as a combination of several elements that came together in American film beginning in 1940. Speaking generally, three of those elements are (1) the arrival of German directors and cinematographers in Hollywood during both World Wars, who brought with them the expressionistic style of German films of the 1920s and 1930s, (2) a cultural malaise in America, resulting from both World Wars, that brought about a more cynical outlook and a strong response to darker themes, motivations, and story lines in films, (3) Hollywood's adoption of the "hard-boiled" school of storytelling, which had existed in print since the early 1920s, but did not reach full realization on the screen until 1940. There are other factors as well, such as the rigidly structured Hollywood studio system, which accommodated the aforementioned elements and caused the noir style to flourish once it became popular with audiences.
The Dark Page II is built on a foundation of existing scholarship on film noir, but is meant only to be an in-depth study of the book sources themselves. The two best pieces I can recommend with regard to a more comprehensive definition of film noir are by Paul Schrader and David Spicer. Schrader's seminal 1971 essay, "Notes on Film Noir," which has remained completely relevant and undated over the past thirty-five years, can be found in Film Noir Reader, edited by Alain Silver and James Ursini and published by Limelight Editions in 1996. David Spicer's book simply titled Film Noir, published by Longmans in 2002, is the most straightforward and thorough primer on the subject I have encountered, with detailed discussions of everything from the expressionist origins of the noir style to the role of the Hollywood system in its development.
The books represented in The Dark Page II came from many sources, including major institutions, personal libraries, and the photographic archives of rare booksellers. My goal is to reproduce with complete accuracy the first edition of the book described in each entry, with extreme attention to detail regarding color, size, and texture. Most of the books you see in the pages that follow are actual photographs of a given book. In the case of a few extremely rare books, however, the book and jacket have been carefully reconstructed from parts that exist in different collections, often located in different parts of the world.