Sponsored By
Bloomsbury Auctions
The World's Leading Auction House for Rare Books and Works on Paper. Now Accepting Consignments.
Summer Sampler
Man's Fate
Photos by Man Ray and Tmej, Christie's South Kensington (London) and Swanns (New York)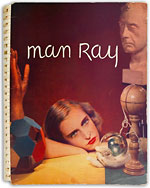 Copies of the same rare photography books were offered in recent British and American sales, but they met with different fortunes. A copy of Man Ray's Photographs 1920-1934 sold for $7,800 in New York on May 14. The back cover was coming loose from its spiral binding, but this copy had been signed and dated by the photographer, albeit some 30 years later, and given to Hana Mackler, a boot and fashion designer. Meanwhile, in London, on May 19, a very fine but unsigned copy of this same work failed to sell. The UK catalog did offer some interesting background information, however. As with most copies, said Christie's specialist Sven Becker, this one had a cancel title claiming it to be a second edition. But this was the publisher's attempt to generate demand where none existed, by suggesting that the first had sold out. Copies with the original title page, it seems, are rare.
Another photographic book that appeared both in London and New York was Zdenek Tmej's Abeceda Dusevinho Prazdna, or Alphabet of Spiritual Emptiness. Highly fragile, because the photogravures were printed on thin newsprint in post-war Prague, this 1946 work documented in 45 black-and-white images the experiences of the 22-year-old Czech photographer in a Nazi labor camp in Breslau. "The dark, impressionistic look of Tmej's photographs is the result of working indoors with a concealed camera and only the dimmest available light," wrote Andrew Roth in The Book of 101 Books: Seminal Photographic Books of the Twentieth Century.
Still in original card covers and dust jacket, a copy in the London sale reached £10,000 ($15,000), but in New York one of an undetermined number of copies issued in a cloth binding, and with the jacket only a facsimile, was left unsold.
Prince Charming
Annotated Spectator, Bloomsbury Auctions, New York, $138,000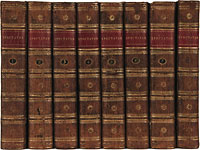 Last month I featured a couple of Fanny Burney items from the Paula Peyraud collection of books, letters and pictures relating to "Samuel Johnson & Women Writers in Georgian England." I cannot resist adding something else from Johnson's old friend Hester Lynch Thrale Piozzi .
Hester's 1789 set of Addison & Steele's Spectator was extensively annotated throughout. A devoted reader, she had obviously read and re-read it, as her notes and observations range span the years 1794-1812, and in some cases these even show revisions or updates.
There are, as one might expect, several references to the views of Dr. Johnson, but among her observations on other historical figures and events are a number of caustic comments about the Prince of Wales—the future George IV.
"He likes Corpulent Beauties best they say,"writes Hester. "So the Girls stuff themselves with Eggs & Chocolate in a Morning for Breakfast; Oysters before Dinner & Porter to fatten them… so that they may emulate LADY AMPLE who would have been our Prince's Favourite." Hester also reports on the Prince's boorish behaviour at the theater ("hissed for chatting too Loud one night…. at an Opera") and his excessive intake of alcohol.
Concerning other women writers, she remarks: "The women write enough now themselves but 'tis never as I see in Vindication of our sex…That Nonsense of laying all Ladies' follies to their Sex seems out of Date…We see Fools & Knaves too of every Sex, Age & Climate in 1800." Beneath, she adds a biting afterthought. "Oh I forgot Mrs Woolstoncraft… but so I suppose has everybody else."
In contemporary sprinkled calf gilt, this wonderful Spectator set was bought by Peyraud in 1982 for $14,300. This time the price was $138,000 .
Among Paula Peyraud's many pictures was an oil portrait of Hester by Johann Zoffany. It sold for $57,600.