Summer Sampler
Mama's Boy
Franz Kafka Photograph, Christie's, London, $20,625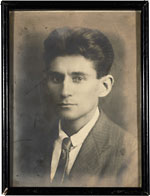 This photograph of Franz Kafka is said to have hung over his mother's bed. Taken in 1906 at the American Photo Studio in Prague, shortly after Franz had received his doctorate in law, the photo later passed to Kafka's favourite sister, Ottla, and thence to her daughter, Vera. It has changed hands a number of times since, but here for the first time it was offered on the open market and sold at £23,750 ($20,625).
I was intending to offer a full provenance but it all started to get too complex, so I offer readers instead my very own Kafkaesque experience—disorienting, if not menacing. Whilst in Prague a few years ago, I visited the then newly opened Kafka museum by the Vlatava, near the Charles Bridge. Having toured the collection, I enquired if there was anywhere I could buy a coffee and was directed to a nearby door. On opening it I found myself in a comfortably appointed bar-cum-lounge where, to my astonishment and delight, I was able to join other British tourists watching an England v. New Zealand rugby match.
A chap can only cope with so much culture in a day!
Tree Huggers
Dendrological Collection, Bloomsbury Auctions, London, $825 & $1,800
"The sketches contained in this Work were drawn from Nature during a short residence near Clifton, chiefly to beguile the tediousness of a lingering indisposition," wrote Miss S.A. Young, of one of the books in a dendrological collection offered in this May 28-29 sale. Whether Miss Young was unwell or simply bored we will never know, but she certainly made good use of her indisposition to produce the art for a folio collection of lithographs, Studies of Trees with and without Foliage.
Published in Edinburgh in 1834, with plates printed by the well known firm of Hullmandel, the folio was available as proof plates on India paper, priced at two guineas, or in what Miss Young called "common" copies at 26 shillings—let us say $3 or $2 at today's exchange rates. The Bloomsbury copy had 11 uncoloured plates as India proofs, but the last, though not on the better type of paper, was coloured up as well. Not found in any of the standard bibliographies consulted by the auctioneers, or indeed in auction records, it sold at £550 ($825).
Barnard's Trees is another really scarce item, issued in 1868 by Winsor & Newton, the famous artist materials suppliers. George Barnard was a professor of drawing at Rugby School and the author of at least two other instruction manuals, Landscape Painting in Water Colours and Drawing from Nature. The 30 litho plates show trees in British and European settings; the plate reproduced here, "The Larch," shows a scene near Zermatt in Switzerland, with the unmistakable peak of the Matterhorn as a backdrop. There was some marginal foxing and staining, but this copy in repaired period binding of half black morocco was bid to £1,200 ($1,800).
Gee Wiz
Wizard of Oz "Waddle" Toys, PBA Galleries, San Francisco, $21,600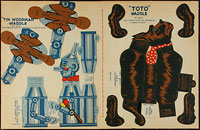 Nobody will ever again attempt to make the Waddle Toys from a genuine Wizard of Oz Waddle Book, and it's only because would-be toymakers had resisted the temptation that a first state copy could make so much money in this May 28 sale.
This rare piece of Oziana, issued by Blue Ribbon Books of New York in 1934, or thereabouts, still retains all six die-cut toys. Still in their flat cardboard panel state, along with the folding yellow brick road, they have never been removed or assembled. Printed on a thin stock cardboard, they were meant to be put together using metal hip connectors, 10 of which are present in a small envelope as issued. Also present is the original instructional envelope, which holds the die-cut parts for the ramp and has a wrap-around band proclaiming, "Under this band in the large envelope, you will find an ingenious runway. It can be set up by any child and will form a perfect base on which to set the Waddle Characters. Just place them on this runway, tap them gently to side and off they will go, walking all by themselves, without the aid of any mechanical power."
Ozperts know that it is very rare to find a copy with all six Waddles, and exceedingly so to find them in this original, unused state.