Summer Sampler
That's Life
19th-Century Life Preserver, Dominic Winter, South Cerney, $210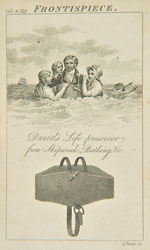 Make friends easily! Be the chap wearing "Daniel's Life-Preserver from Shipwrecks, Bathing &c." The ship has gone down but the well-dressed (and to my mind, somewhat smug looking) fellow sporting a 'Daniel's Preserver' finds himself in good company: Two ladies and a fellow who neglected to kit himself out with a Daniel all cling to him. This is one of the five engraved plates of safety and rescue equipment that illustrate a little book by Newton Bosworth called The Accidents of Human Life, with hints for their prevention, or the removal of their consequences. An 1813 first edition seen in a May 13 sale, its period half calf binding now rubbed and cracked at the upper joint, sold at £141 ($210).
Ye Gads!
Sale Catalog for Dickens' House in Kent, Christie's South Kensington, London, $7,500
There was once a boy who took a liking to a house on a hilltop between Gravesend and Rochester in Kent, named Gad's Hill Place, after a minor Shakespearian character, a highway robber and friend of Falstaff called Gadshill who appears briefly in Henry IV Pt. I. At the time his father told the boy that if he was ambitious and worked hard, he might one day live there. Well, the boy did good. It took a little time, but in 1856 the grown-up Charles Dickens bought the house and died there in June 1870.
Just two months later, the property was up for auction and a catalog was printed up for interested parties, illustrated with two coloured litho views and two folding plans of this "Very Valuable and Beautiful property… for Many Years the Favourite Abode of Charles Dickens."
Bound in half vellum in the last century but retaining the original, if soiled and repaired pictorial wrappers, this rare piece of Dickensiana sold for £5,000 ($7,500) in London last month, but barely more than a year ago it had made $10,000 in New York. Quick returns to the block only rarely result in improved financial returns.
It is a complex trail, but bear with me. Formerly in the great Dickens collections formed by Comte Alain de Suzannet (sold in 1971) and Kenyon Starling, the Gad's Hill catalog appeared last year at Christie's $1.92 million sale of the first part of the William E. Self Family Dickens collection. Bill Self, who in the 1960s and 70s was president of Twentieth Century Fox's TV division, was a fellow Dickens collector and, like Starling, a native of Dayton, Ohio. At his death in 1983, Starling generously left his Dickens collection to Self's daughter.
Masterpiece Library
Study of Etruscan Vases, Christie's, London, $48,675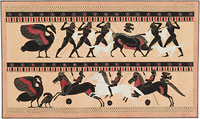 Exemplary condition and fine binding characterized a magnificent collection of colour plate books sold in London on June 3. The saleroom would say only that the books came from an historic European library, but a German source is suggested by the fact that many appeared in elegant and colourful, gold tooled bindings bearing the ticket of Philipp Selenka. A binder of Wiesbaden, Philipp is not as well known as his brother, Johann Jacob, who was bookbinder to the court of the Duke of Braunschweig, but that may be because Philipp did most of his work for private aristocratic libraries, and only now has his craftsmanship been revealed.
As a sample I have selected a work on Etruscan antiquities, the Introduction à l'étude des Vases Antiques … vulgairement appelés Étrusques by A. Dubois Maisonneuve. A masterpiece of French 19th-century printing, the work was issued serially in 17 parts—one each year from 1817-34. It reproduces on 97 engraved plates a variety of vases and decorative schemes drawn from a number of European collections. This is a work rarely found complete or coloured, but here was the complete set, fully coloured up and preserved in Philipp Selenka's fine green morocco gilt binding. Philipp's bindings sometimes show a most unusual use of colours, on both the leatherwork and in the endpapers. This one has pink glazed endpapers!
Only one other copy appears in auction record for the last 30 years, an uncoloured example that made $5,480 in 1989, and this ravishing copy sold at £32,450 ($48,675).