Special Report
Reading in the Dark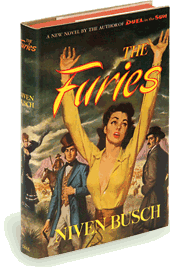 The Furies
Publisher: New York: Dial Press, 1948
Niven Busch had a long and successful career both as a novelist and a screenwriter, and is credited with having spawned "the psychological western" with novels like Duel in the Sun and The Furies, as well as original screenplays such as the noir western, Pursued. In a 1983 interview with David Thomson, Busch remarked, "My objective was to make the people real and to give them three dimensions in terms of modern culture. People in westerns weren't often like that. And maybe some of my characters are more modern in psychological terms than people of that period really were. Certainly their actions were self-revealing. But the Freudian element is one we impose, like a surface coating. It was not my intention. It came from the eyes of the viewers. Now, of course, let's face it; I'd had some psychoanalysis—not a huge amount, but some. So I may have been influenced; I don't know. Really and truly, if you look at any of the masterpieces of literature, not that I'm putting myself in that class, there's a Freudian level. You could say that Shakespeare and Dostoevsky prefigure Freud and Wagner—even Balzac and Stendhal. So if I'm accused of initiating a Freudian picture...it's a good label, but it wasn't intentional." (McGilligan, Backstory 1)
Gray cloth with red titles on the front board and spine, matching red topstain. Matching dates of 1948 are present on the title page and copyright page. Front flap shows a price of $3.00 at the top right corner, followed by a plot summary that continues to the end of the rear flap. Rear panel contains an author biography, with a photo of the author at the top right.
The Furies
Producer: Hal Wallis
Screenwriter: Charles Schnee
Cinematographer: Victor Milner
Composer: Franz Waxman
Cast: Barbara Stanwyck, Wendell Corey, Walter Huston, Judith Anderson, Gilbert Roland, Thomas Gomez, Beulah Bondi, Albert Dekker, John Bromfield, Wallace Ford, Blanche Yurka, Louis Jean Heydt, Frank Ferguson, Charles Evans, Movita Casteneda, Craig Kelly, Myrna Dell
Studio: Paramount, 1950
Runtime: 109 minutes
Beginning in 1950, Anthony Mann made a shift from crime thrillers and urban settings to Westerns. John Ford and Howard Hawks had brought new sensibilities to the genre, but it was Mann that would use the precedents set by films like Red River and My Darling Clementine as a foundation for something new. By infusing the characters and archetypes associated with the genre with the psychological complexity of film noir, the director paved the way for a new era. Winchester '73, Devil's Doorway, and The Furies, all made in 1950, would be the first films of a cycle with a style so profound that even John Ford would sit up and take note.
Among these films, particularly in terms of characterizations, The Furies is pure noir. Fate, madness, and hunger for power and money are its primary concerns. Much of the action takes place at night, and a noirish duality is set up between pairs of characters. All the devices the director learned in his 1940s films are brought to bear—depth of field, shadowed lighting, menacing and overpowering interiors, bizarre camera angles, diffusions, and silhouettes. With The Furies, Mann made a mark in the sand, and cinematographer Victor Milner earned an Oscar for his work on the film. (Basinger)
Reference: Selby