Special Report
Reading in the Dark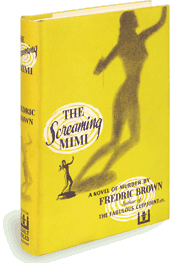 The Screaming Mimi
Publisher: New York: Dutton, 1949
Born in 1906 in Cincinnati, Fredric Brown was an American author of science fiction and crime fiction. Though he wrote several well-received novels in both genres, Brown is best remembered for his sense of humor, his alcoholic protagonists, and his unquestioned mastery of the short story form. Brown has traditionally been cast as a "writer's writer," more esteemed by fellow practitioners than the general public—he was one of the dedicatees of Robert A. Heinlein's Stranger in a Strange Land, was singled out as an exceptional writer by Ayn Rand in her book, The Romantic Manifesto, praised by Philip K. Dick, and called "my favorite writer of all time" by Mickey Spillane.
Yellow cloth with the Dutton Guilt-Edged Mystery logo in reverse against a panel of dark blue at the bottom right corner of the front board. Guilt-Edged mystery logo, title, publisher's name, and rule in dark blue on the spine, with title inreverse. No topstain. Title page shows a date of 1949, with "FIRST EDITION" stated on the copyright page. Front flap shows a price of $2.50 at the bottom right corner, along with a plot summary. Rear flap is an advertisement for The Bloody Moonlight by Fredric Brown, ending with the publisher's name and address. Rear panel begins with a photo of the Edgar award at the top left, with a note about Fredric Brown having been given the award at the right, ending with notices for four books by the author.
Screaming Mimi
Producer: Harry Joe Brown, Robert Fellows
Screenwriter: Robert Blees
Cinematographer: Burnett Guffey
Composer: Mischa Bakaleinikoff
Cast: Anita Ekberg, Philip Carey, Gypsy Rose Lee, Harry Townes, Linda Cherney, Romney Brent
Studio: Columbia, 1958
Runtime: 79 minutes
While the Victorian interiors do not exactly make one think of San Francisco, location shooting in both that city and nearby private beaches brings an appropriately opaque atmosphere to Screaming Mimi. Unique too are the thoroughly modern, spaced-out sounds of the Red Norvo Quartet (billed as the Red Norvo Trio, though there are indeed four men performing), and Gypsy Rose Lee doing what she does best—running a nightclub called El Madhouse and singing "Put the Blame on Mame."
Midway through the film, the patient viewer will be thoroughly involved in an effective and slightly perverse rendering of Fredric Brown's trademark dream narrative. That narrative is brought to life nicely by Burnett Guffey's creative visuals, Harry Townes' turn as a the scummiest of personal managers, a serial killer on the loose, and an oddly effective Anita Ekberg, who spends the entire film in a state of semi-dissociation. It somehow makes sense that Ekberg, on her way to the surreal world of Fellini's La Dolce Vita and Boccaccio '70, would intersect here with the redoubtable Gerd Oswald, who was on his way to television to direct episodes of The Outer Limits and Star Trek. Combined with the superior source material, the results were memorable, making this one of the best Columbia "B" noirs of the 1950s.
Remade as an Italian giallo film by maverick Italian horror director Dario Argento in 1970 as L'uccello dalle piume di cristallo (The Bird with Crystal Plumage).
Reference: Selby, Lyons